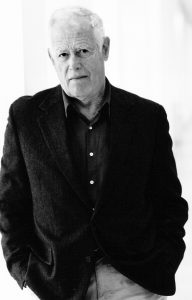 Ann Beattie
Mary Robison
Joy Williams
Press Release
---
New York, N.Y. -The annual $30,000 Rea Award for the Short Story is awarded to JAMES SALTER.
Michael M. Rea, a passionate reader and collector of short stories, founded The Rea Award for the Short Story in 1986 to recognize a living United States or Canadian writer whose work has made a "significant contribution to the discipline of the short story form." The Rea is awarded for an original and unique contribution to literature, to a writer who influences the short story genre. Cynthia Ozick, the first winner of The Rea Award, said, "By now the Rea Award is an indispensable American institution and a coveted American prize. It is our little Nobel – little only in the sense that it addresses the short form."
The Rea Award sponsored by the Dungannon Foundation is directed by Michael Rea's widow, Elizabeth Richebourg Rea. Three short story writers are appointed annually by Ms.Rea to nominate and select the winner. The jurors for the 2010 Rea Award winner are Ann Beattie, Mary Robison and Joy Williams. About Salter, they write:
American short story writers hold no one in higher esteem than James Salter. He is the most stylish and grave and exact of writers and no one can match the beauty and precision of his prose. One leaves his stories stricken, stripped clean, grateful. His stories have been called imperishable. This is true.
James Salter's first story collection Dusk and Other Stories (1988) received the PEN/Faulkner Award in 1989. One of the stories Twenty Minutes from that collection became the basis for the 1996 film Boys. He also wrote a collection of stories, Last Night in 2005.He wrote five novels including The Hunters (1956) later made into a movie starring Robert Mitchum in 1958. The Arm of Flesh (1961) was inspired as well by his
Air Force experiences. He also wrote A Sport and a Pastime (1967). Of Light Years (1975) Jhumpa Lahiri writes: "I had certainly never read sentences so precise, so clean, so fervent and yet so calm." With Solo Faces, Salter achieved writers' writer status.Writer Richard Ford once wrote,"sentence for sentence, Salter is the master".
Downhill Racer (a 1969 film starring Robert Redford) is one of many screenplays Salter wrote for independent and feature films. Other screenplay titles are The Appointment (1969), Three (1969), Threshold (1981) and a book of poetry, Still Such (1988) along with two memoirs, Burning the Days (1997) and Gods of Tin (2004).
James Salter received the award in literature from the American Academy of Arts and Letters in 1981. In 2000 he was elected a member. In 2010, he received PEN USA's Lifetime Achievement Award and in April 2011, The Paris Review's Hadada Prize. He was also given the Clifton Fadiman Medal for LightYears. Five of Salter's stories have appeared in The O'Henry Prize Stories and one in Best American Short Stories.
New York Times critic, Michiko Kakutani said, Salter's stories "…can suggest in a single sentence, an individual's entire history, the complex interplay of longing and fear, hope and need, that has brought about the present."
William Dowie, Salter's biographer is quoted in the Dictionary of Literary Biography "….his best work..will
take the reader's breath away because of sudden glimpses deep into the pool of life. Indeed it is hard to read a Salter story or novel without being ambushed by recognitions, things one knew instinctively but never
thought about or acted on."
Salter lives with his wife, the playwright Kay Eldridge in Bridgehampton,NewYork and Aspen, Colorado.
In addition toThe Rea Award for the Short Story, the Dungannon Foundation also sponsors ReaVisiting Writers and ReaVisiting Lecturers at the University ofVirginia, and Selected Shorts:A Celebration of the Short Story at Symphony Space in NewYork City.