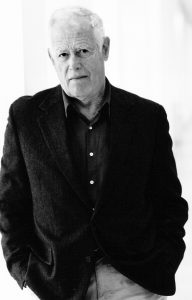 Biography
---
James Salter was born in 1925 in New York City. He entered West Point in 1942 where he trained as a pilot, eventually to serve twelve years in the Air Force, the last six as a fighter pilot. He received an MA from Georgetown University in 1950. In 1957, he left his military career to pursue writing full time. Salter went on to become an author of numerous short story collections, novels, screenplays, essays, and memoirs.
James Salter's first story collection Dusk and Other Stories (1988) received the PEN/Faulkner Award in 1989. One of the stories Twenty Minutes from that collection became the basis for the 1996 film Boys. He also wrote a collection of stories, Last Night in 2005. He wrote five novels including The Hunters (1956) later made into a movie starring Robert Mitchum in 1958. The Arm of Flesh (1961) was inspired as well by his Air Force experiences. He also wrote A Sport and a Pastime (1967). Of LightYears (1975) Jhumpa Lahiri writes:"I had certainly never read sentences so precise, so clean, so fervent and yet so calm." With Solo Faces, Salter achieved writers' writer status. Novelist Richard Ford once wrote,"sentence for sentence, Salter is the master".
Downhill Racer (a 1969 film starring Robert Redford) is one of many screenplays Salter wrote for independent and feature films. Other screenplay titles are The Appointment (1969), Three (1969), Threshold (1981) and a book of poetry, Still Such (1988) along with two memoirs, Burning the Days (1997) and Gods of Tin (2004).
James Salter received the award in literature from the American Academy of Arts and Letters in
1981. In 2000 he was elected a member. In 2010, he received PEN USA's Lifetime Achievement Award and in April 2011, The Paris Review's Hadada Prize. He was also given the Clifton Fadiman
Medal for Light Years. Five of Salter's stories have appeared in The O'Henry Prize Stories and one in Best American Short Stories.
Salter lives with his wife, the playwright Kay Eldridge in Bridgehampton,NewYork and Aspen,
Colorado.