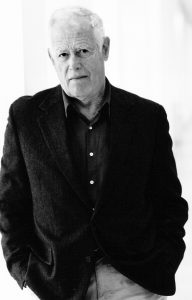 ---
The Litchfield County Times
New Milford, CT
August 26, 2011
A Washington Plot: Salter Wins Award
By Douglas P. Clement
WASHINGTON—Michael Moorhead Rea was cut from a cloth they don't make anymore. Handsome with a rugged presence—in the style of Brando at his peak, Robert Mitchum, Hemingway as­­cen­­dant—he was also a romantic in the literary sense of the word.
He joined the U.S. Marine Corps and served in North China at the end of World War II, and was later vice president of the Oliver Tyrone Corporation, a family real estate firm in Pittsburgh. From 1970 to 1979 he was active and very successful in real estate.
Love of Words
In between, the eventual Washington resident earned a Bachelor's Degree in English from the University of Virginia, and, always a passionate reader, Rea wrote short fiction and collected first editions of American short stories.
Devoted to short-form literature, in 1986 he founded the Rea Award for the Short Story, which comes with a $30,000 prize, and was created "to foster a literary cause, to ennoble the form, to give it prestige."
Michael Rea died in the summer of 1996, and the Rea Award is administered with great care and quiet passion by Rea's widow, the photographer Elizabeth Richebourg Rea. She announced the 2010 winner this week, and it could not have been a better choice.
James Salter is a literary lion cut from that same rare and seemingly eclipsed male cloth that marries substance, style, sensitivity and erudition. They don't make them like Michael Rea anymore, or like James Salter.
There's a symbiosis at work here that's worthy of literary analysis; Rea, whose legacy perseveres amid the cruel flickering light of the digital age, is a protagonist who could have walked off the pages of one of Mr. Salter's fictions.
Mr. Salter was born in 1925 in New York City. He entered West Point in 1942, where he trained as a pilot, eventually to serve 12 years in the Air Force, the last six as a fighter pilot. He received a Master of Arts degree from Georgetown University in 1950. In 1957, he left his military career to pursue writing full-time.
"I am so glad; it's overdue," Ms. Rea said by phone Wednesday of the Rea Award jury's selection of Mr. Salter, who is in his 80s. Despite his long roster of published works, awards and honors, Ms. Rea still judges him to be under-recognized.
Perhaps, it is suggested, that's because Mr. Salter has never compromised his voice, never followed literary trends or fashions. It's a theory Ms. Rea thinks has some credibility.
As for the Rea Award going to Mr. Salter, the choice reinforces a founding principle of the award; that it's about the form and its mastery, not about volume. Mr. Salter, after all, has only published two volumes of short stories, including the landmark Dusk and Other Stories from 1988.
"Michael really wanted it to be about a writer making a significant contribution to the short story form," Ms. Rea said, and Mr. Salter's stories are singular.
The jurors for the 2010 Rea Award, Ann Beattie, Mary Robison and Joy Williams, wrote about Mr. Salter: "American short story writers hold no one in higher esteem than James Salter. He is the most stylish and grave and exact of writers and no one can match the beauty and precision of his prose. One leaves his stories stricken, stripped clean, grateful. His stories have been called imperishable. This is true."
Dusk and Other Stories received the PEN/Faulkner Award in 1989. One of the stories, Twenty Minutes, from that collection became the basis for the 1996 film Boys. He also wrote a collection of stories, Last Night, in 2005.
He wrote five novels including The Hunters (1956), which was later made into a movie starring Robert Mitchum in 1958. The Arm of Flesh (1961) was inspired as well by his experiences serving in the Air Force. He also wrote A Sport and a Pastime (1967), which represented the work through which many students yearning to experience the world first encountered his writing.
Mr. Salter achieved writers' writer status, according to the release that announced him as this year's Rea Award winner. Writer Richard Ford once wrote, "Sentence for sentence, Salter is the master".
Downhill Racer, a 1969 film starring Robert Redford, is one of many screenplays Mr. Salter wrote for independent and feature films. His other credits include two memoirs, Burning the Days (1997) and Gods of Tin (2004).
William Dowie, Mr. Salter's biographer, is quoted in the Dictionary of Literary Biography as saying, " … his best work … will take the reader's breath away because of sudden glimpses deep into the pool of life. Indeed it is hard to read a Salter story or novel without being ambushed by recognitions, things one knew instinctively but never thought about or acted on."
Mr. Salter lives with his wife, the playwright Kay Eldridge, in Bridgehampton, N.Y., and Aspen, Colo.
Cynthia Ozick, the first winner of the Rea Award, said, "By now the Rea Award is an indispensable American institution and a coveted American prize. It is our little Nobel—little only in the sense that it addresses the short form."
"We seem to have strayed from something unique," said Ms. Rea in considering how the world has moved to embrace such things as blogs, social media and Tweeting. "It's not giving the word it's true justice or importance."
In honoring short stories and those who write them, she said, "It's very nice to get back to something where you can see someone has worked on what they're writing."
Next year is the award's 25th year, and Ms. Rea said, "It's very exciting to still be moving forward with Michael's award. He's been gone for 15 years. It seems like yesterday that he started this."
The Rea Award is sponsored by the Dungannon Foundation. To learn more about the Rea Award, see the Web site at www.reaaward.org.
---
Palm Beach Daily News
August 31, 2011
James Salter is the recip­ient of the 2010 Rea Award for the Short Story.
By Jan Sjostrom
Daily News Arts Editor
The $30,000 an­nual award, estab­lished by the late part-time Palm Beach resident Mi­chael Rea in 1986, recognizes liv­ing American or Canadian writers whose work has made a significant contribution to the genre.
Winners are selected by a jury of short-story writers appointed by Rea's widow, Eliza­beth Richebourg Rea, who directs the Dungannon Foundation. The founda­tion sponsors the award. The 2010 jurors were Ann Beattie, Mary Robison and Joy Williams.
They wrote of Salter's work: "He is the most stylish and grave and exact of writ­ers, and no one can match the beauty and precision of his prose. One leaves his stories stricken, stripped clean, grateful."
Salter, who was born in 1925 in New York City, was a fighter pilot in the U.S. Air Force before becoming , a full-time writer in 1957. His short ­story collections include Dusk and Other Stories and Last Night.
He is the au­thor of five novels, a book of poetry, two memoirs and several screenplays, in­cluding that for the 1969 film Downhill Racer. His awards include the 2010 PEN USA Lifetime Achievement Award.