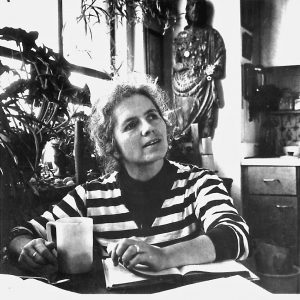 Stuart Dybek
Deborah Eisenberg
Jack Miles
Press Release
---
The $25,000 Rea Award for the Short Story has been awarded to GRACE PALEY.
Jurors for the 1993 Rea Award for the Short Story were two short story writers, Stuart Dybek and Deborah Eisenberg, and Jack Miles, a member of the Los Angeles Times editorial board and director of the Los Angeles Times Book prizes, chair of the jury for the Kingsley Tufts Poetry Award and member of the board and past president of the National Book Critics Circle.
In selecting this year's winner, the jury gave the following citation:
"Grace Paley is a pure short story writer, a natural to the form in the way that rarely gifted athletes are said to be naturals. Her stylistic contribution is unique; a kinetic rhythm of prose divided into fragments that reassemble into a single voice as unmistakable as any in American fiction. It is a voice that, humorous and wise, tough and compassionate, speaks without compromise for the little disturbances of men and women, and endows them with the stature of a moral vision."
The Rea Award for the Short Story was established in 1986, to honor a writer who has made a significant contribution to the short story as an art form. It is given annually by the Dungannon Foundation to a living U.S. writer. The award cannot be applied for; the recipient is nominated and selected by a jury.
Grace Paley is the author of three collections of short stories, The Little Disturbances of Man, Enormous Changes at the Last Minute, and Later the Same Day.A lifelong political activist, she has described herself as "a somewhat combative pacifist and cooperative anarchist."
Born and raised in NewYork's Bronx, "Grace Paley is to New York what William Faulkner is to Mississippi," says Vivian Gornick in The Village Voice. "Paley is the ultimate New Yorker. Her pages are alive with the sounds of the savvy, street-smart New Yorker, and every character – regardless of age, sex, or education – knows his lines to perfection. In her extraordinary tone of voice and use of imagery, in the shape and rhythm of her language, is captured whole the incredible combination of shrewdness, naiveté, appetite, and insight that is uniquely New York street life."
Many of the stories are written from a woman's point of view and contain autobiographical elements.
Patricia Blake said in Time magazine: "I can't think of another writer who captures the itch of the city, or the complexities of love between parents and children, or the cutting edge of sexual combat as well as Grace Paley does. "Walter Clemons said in Newsweek: "Grace Paley is one of the best writers alive."