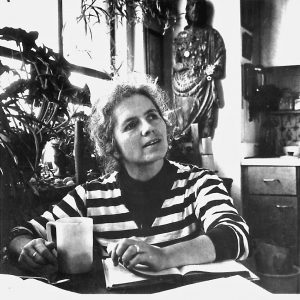 Biography
---
Grace Paley was born Grace Goodside in the Bronx, New York, in 1922. Her parents, Russian-Jewish immigrants, had an important influence on her life as a writer and political activist.
She entered Hunter College in New York City when she was only 15 and later attended New York University, but did not stay for a degree. "I really went to school on poetry," she says. "I learned whatever I know about writing and craft from writing poems." In the early 1940's, she studied with W. H. Auden at the New School for Social Research in New York.
Grace Paley's first collection of short stories, The Little Disturbances of Man, was published by Doubleday in 1959. Based on its glowing critical reception, Doubleday tried to persuade her to write a novel. She spent two or three years on this effort, but then abandoned it. In 1968, a different publisher. Viking, republished The Little Disturbances of Man. As Walter clemons observed in Newsweek, this was "an event almost without parallel in the forlorn history of short-story collections."
Her next two volumes of short stories were published by Farrar, Straus & Giroux – Enormous Changes at the Last Minute in 1974 and Later the Same Day in 1985.
The paperback edition of Enormous Changes at the Last Minute is published by Farrar, Straus & Giroux.Viking Penguin publishes the paperback editions of The Little Disturbances of Man and Later the Same Day.
Her short stories have appeared in the New Yorker, Ms., Fiction, Mother Jones and other
magazines.
A popular and respected teacher of writing, Grace Paley's stories have been used as models in writing workshops. She began teaching in the early 1960s with courses at Columbia and  Syracuse universities and then became a member of the faculty of Sarah Lawrence College in Bronxville, New York. She has also taught at the graduate school of City College in New York. Grace Paley married a motion picture cameraman, Jess Paley, in 1942. They were divorced and in 1972 she married her second husband, a landscape architect and author, Robert Nichols.
Much of Grace Paley's life has been spent in political action.A member of the War Resisters League, she opposed the Vietnam War and was a member of a peace movement mission to Hanoi. She attended the World Peace Congress in 1974 and in 1985 visited Nicaragua and El Salvador, after having campaigned in the United States against the government's policies toward these countries.The threat of nuclear disaster motivated much of her political activity. She was one of "The White House Eleven," who in December 1978 were arrested for unfurling an antinuclear banner on the White House Lawn. She was fined and given a suspended six-month sentence.
Grace Paley received a Guggenheim Fellowship in Fiction in 1961 and the National Institute of Arts and Letters Award for short story writing in 1970. In 1980, she was elected to the National Academy of Arts and Letters. In 1989, Governor Cuomo conferred upon Grace Paley the honor of becoming the first official New York State writer. Grace Paley has a son and daughter and one grandchild. She currently lives in Thetford, Vermont.
Short Story Collections
The Little Disturbances of Man (Doubleday & Co., 1959)
The Little Disturbances of Man (Viking, 1968)
Enormous Changes at the Last Minute (Farrar, Straus & Giroux, 1974)
Later the Same Day (Farrar, Straus & Giroux, 1985)
Short Fiction and Poetry
Long Walks and Intimate Talks (Feminist Press, 1991)
Poetry
New and Collected Poems (Tilbury House, 1992)
Biographical information prepared the year of the award.