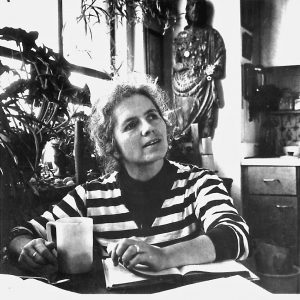 ---
United Press International
New York, NY
April 12, 1993
Grace Paley named winner of top short story prize
NEW YORK(UPI) — Grace Paley, fiction writer and political activist, Tuesday was named winner of the $25,000 Rea Award for the Short Story, the largest American prize of its kind
Paley, 70, who is New York state's first official New York state writer, was named by a jury of writing professionals for the 1993 Rea Prize awarded by the Dungannon Foundation annually since 1986 to writers who have significantly advanced the short story form.
Previous winners have been Cynthia Ozick, Robert Coover, Donald Barthelme, Tobias Wolff, Joyce Carol Oates, Paul Bowles and Eudora Welty.
A native of the Bronx who now lives in Thetford, Vt, Paley is best known for three volumes of short stories, The Little Disturbances of Man, published in 1959, Enormous Changes at the Last Minute, 1974, and Later the Same Day, 1985. Most of her stories deal with New York street life and the shrewdness, naiveté, appetites and insights of street-smart New Yorkers.
Paley has written extensively for The New Yorker magazine and other publications. She has been a member of the faculty of Sarah Lawrence College, Bronxville, N. Y., and the graduate school of City College of New York.
She was a pioneer member of the War Resisters League which opposed the Vietnam War and a member of a peace movement mission to Hanoi. In 1978, she was one of the "White House Eleven" who were arrested in 1978 for unfurling an antinuclear banner on the White House lawn and given six-month suspended sentences. She also visited Nicaragua and El Salvador in 1985 to protest U.S. government policies in those countries.
Paley is the wife of landscape architect and author Robert Nichols.
---
Newsday
New York, NY
April 13, 1993
Dialing Authors For Dollars
by Michael Shain, Doug Vaughan and Pat Wechsler
This was a phone call writer Grace Paley really wanted to get. Paley has labored most of her professional life on short stories, earning tremendous distinction for her work but little money. The judges of the Rea Award — the only short story prize in America — knew this and opted to call Paley directly when they decided a few. weeks ago to award her a prize worth $25,000. Sweet idea, right? Not if your publisher is Farrar, Straus, & Giroux. The company flat-out refused to give Paley's phone number to the Rea judges, who were forced to ask a reporter — of all people — to use his clout. Jack Miles, the former book editor for the Los Angeles Times and a Rea Award judge, made one call and put Farrar, Straus & Giroux in their place. Within seconds, we're told, Miles was in possession of Paley's home phone number and Paley (Bronx-born, Hunter College-educated, in case you're keeping score) was on the way to getting her check.
---
Publishers Weekly
April 19, 1993
$25,000 Rea Award for Paley
The 1992 Rea Award for the Short Story has been given to Grace Pale. The annual award, worth $25,000, was established in 1986 to honor a writer who has made a significant contribution to the short story, and is administered by the Dungannon Foundation.
Jurors for the award were authors Deborah Eisenberg , Stuart Dybek and Jack Miles of the Los Angeles Times.
Previous winners were Cynthia Ozick, Robert Coover, Donald Barthelme, Tobias Wolff, Joyce Carol Oates, Paul Bowles an Eudora Welty.
---
Palm Beach Daily News
April 25, 1993
Author Grace Pale wins Rea Award for the Short Story
This year's $25.000 Rea Award for the .Short Story went to Grace Paley, it was announced this month. The Rea Award was established by part-time Palm Beach, resident Michael Rea in, 1986 to recognize those who make significant contributions to the short story form.
"Grace Paley is a seminal writer of short fiction," said Rea in a telephone conversation recently from his Palm Beach home. "She's been publishing work since the 1960s. She's affected a great many female writers. People like Ann Beattie and Anne Tyler came out of Grace's work."
Paley has written three col1ections of short stories: The Little Disturbances of Man, Enormous Changes at the Last Minute and Later the Same Day.
The 70- year-old writer is a lifelong political activist who has protested against the Vietnam War, United States' policies toward El Salvador and Nicaragua and nuclear arms.
Rea Award recipients are nominated and chosen by a jury of experts. Past winners include Joyce Carol Oates, Paul Bowles and Eudora Welty.
Paley, who was born and raised in the Bronx, has been called "the ultimate New Yorker." She writes with the street wise savvy of her hometown.
In writing about Paley's work, juror and short story writer Stuart Dybek said. "It is a voice that, humorous and wise, tough and compassionate, speaks without compromise for the little disturbances of women and men, and endows them with the stature of a moral vision."
Rea was active in real estate development in the Washington, D.C., area and founded Harrea Broadcasting. An avid book and art collector, he is also a board member of the Norton Gallery of Art in West Palm Beach
---
Pittsburgh Post-Gazette
April 14, 1993
New York writer wins short story award
Author of collections The Little Disturbances of Man, Enormous Changes at the Last Minute and Later the Same Day, Paley, 10, has also published poetry and been active in the anti-nuclear movement. Born in new York City, the writer was the official New York State writer, named by Gov. Marie Cuomo in 1989.
She is the seventh winner of the prize which was launched in 1986 by Sewickley native Michael Rea, a noted book and art collector and great-grandson of industrialist Henry W. Oliver. Rea now lives in Connecticut.