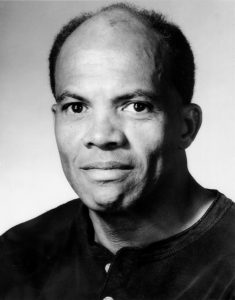 Grace Paley
Tim O'Brien
Gina Berriault
Press Release
---
The $30,000 Rea Award for the Short Story has been awarded to JOHN EDGAR WIDEMAN.
Sponsored annually by the Dungannon Foundation, the Rea Award was established in 1986 by the late Michael M. Rea to honor a living United States or Canadian writer who has made a significant contribution to the short story form. It was Michael Rea's desire to encourage writers to maintain loyalty to the art of short fiction. The award continues under the direction of Mr. Rea's widow, Elizabeth Richebourg Rea, photographer and curator. The only award in the U.S. exclusively for the short story, it is not given for a specific title, but rather for literary power, originality and influence on the genre. The recipient is nominated by a jury of writers.
This year's jurors, Gina Berriault, Grace Paley, and Tim O'Brien have offered the following citation:
Profoundly honest, eloquently impassioned, the stories of John Edgar Wideman guide us to a place we've never been, into that unexplored area of America's Heartland for which we've had no true compass before his own. More than compassionate, Wideman's stories are like gospel songs sung by a hundred voices, offering praise to life itself.
According to The New York Times, in its review of The Stories of John Edgar Wideman, "Any American fiction writer who sets the bulk of his work in the same place, or who draws repeatedly on the same characters, inevitably faces comparison with William Faulkner. With John Edgar Wideman's inner-city Pittsburgh neighborhood of Homewood that comparison is particularly apt."
John Edgar Wideman's short story collections include Damballah (Avon, 1981), Fever (Henry Holt, 1989), The Stories of John Edgar Wideman (Pantheon, 1992) and All Stories Are True (Vintage, 1993), which passionately depict African-American life in the Homewood district of Pittsburgh. The Atlanta Journal & Constitution calls these stories "powerful, intense and provocative," and The Chicago Tribune takes note of Wideman's "passion for imaginatively studying the present in light of the past, his profound pity, and his heroic distrust of it."
His novels include A Glance Away, Hurry Home, The Lynchers, Hiding Place, Sent For You Yesterday, Philadelphia Fire and The Cattle Killing. He is the author of a memoir, Brothers and Keepers. He received the PEN/Faulkner Award in 1984 for Sent For You Yesterday and in 1990 for Philadelphia Fire. He was awarded the Lannan Literary Fellowship for Fiction in 1991 and the MacArthur Award in 1993. In 1996, he edited the annual anthology, The Best American Short Stories (Houghton Mifflin). His next novel, Two Cities, will be published in September 1998 by Houghton Mifflin which will also reissue the short story collection Damballah, and the novel, Hiding Place, in July 1998.