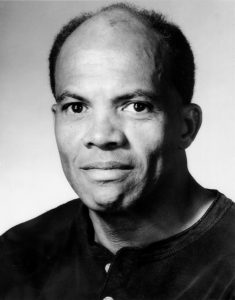 Biography
---
John Edgar Wideman was born in Washington, D.C. in 1941. Shortly before his first birthday, the family moved to Homewood, an African-American community in Pittsburgh, Pennsylvania that has been the locale of much of his fiction. He attended Peabody High, one of Pittsburgh's best secondary schools. There, he excelled in his studies as well as in sports.
He was awarded a Benjamin Franklin scholarship by the University of Pennsylvania, where he not only won a creative-writing prize but also earned membership in Phi Beta Kappa. Matching his scholastic achievements with his athletic ones, he won All-Ivy League status as a forward on the basketball team and successfully competed on the track team. He obtained his B.A. in English at the University of Pennsylvania in 1963. That year, he won a Rhodes scholarship and set off for Oxford University's New College in England, where he received a Bachelor of Philosophy degree.
Returning to the United States in 1966, Wideman spent the 1966-67 academic year at the University of Iowa's Writers' Workshop as a Kent Fellow, using that time to complete his first novel, A Glance Away, published in 1967. His novels include Hurry Home, The Lynchers, Hiding Place, Sent For You Yesterday, Philadelphia Fire and The Cattle Killing. He is the author of a memoir, Brothers and Keepers. His short stories collections are Damballah, Fever, The Stories of John Edgar Wideman and All Stories Are True.
He received the PEN/Faulkner Award for Fiction in 1984 for his novel. Sent For You Yesterday and for Philadelphia Fire in 1990.That year, he also received the American Book Award for Fiction. He was awarded the Lannan Literary Fellowship for Fiction in 1991 and the MacArthur Award in 1993. Other honors include The St. Botolph Literary Award, Boston, in 1993, the DuSable Museum Prize for Non-fiction for Brothers and Keepers in 1985, the Longwood College, Longwood, Virginia, Medal for Literary Excellence and the National Magazine Editors Prize for Short Fiction in 1987. In 1996, he edited the annual anthology. The Best American Short Stories (Houghton Mifflin).
John Edgar Wideman is Professor, Department of English at the University of Massachusetts, Amherst.
His next novel. Two Cities, will be published in September 1998 by Houghton Mifflin which will also reissue the short story collection, Damballah, and the novel. Hiding Place in July 1998.
Biographical information prepared the year of the award.