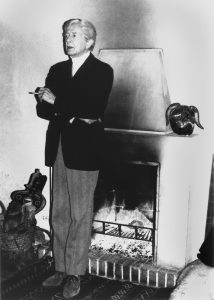 Joel Conarroe
Francine du Plessix Gray
Joyce Carol Oates
Press Release
---
The $25,000 Rea Award for the Short Story has been awarded to PAUL BOWLES.
The Rea Award for the Short Story was established in 1986, to honor a writer who has made a significant contribution to the short story as an art form. It is given annually by the Dungannon Foundation to a living U.S. writer. The recipient is nominated and selected by a jury – the award cannot be applied for.
Previous winners of the Rea Award for the Short Story are Cynthia Ozick (1986), Robert Coover (1987), Donald Barthleme (1988),Tobias Wolff (1989) and Joyce Carol Oates (1990).
Jurors for the 1991 Rea Award for the Short Story were Joel Conarroe, author and President of the John Simon Guggenheim Memorial Foundation, Francine du Plessix Gray, author of works of fiction and non-fiction, and novelist and short story writer, Joyce Carol Oates.
In selecting this year's winner, the jury gave the following citation:
"Paul Bowles is a storyteller of the utmost purity and integrity. He writes of a world before God became man; a world in which men and women in extremis are seen as components in a larger, more elemental drama. His prose is crystalline and his voice unique. Among living American masters of the short story, Paul Bowles is sui generis."
Born in New York in 1910, Paul Bowles went to Europe in the 1920s to study music with Aaron Copeland. In 1938 he married the writer, Jane Auer. After World War II, he and Jane settled in Tangier, Morocco, where he still makes his home. He combines various talents – novelist, translator, poet, composer and short-story writer. While his work has been highly esteemed by other writers and he has become a cult figure, it is less familiar to general readers. Aside from The Sheltering Sky, he has so far not received much public attention.
Paul Bowles' short-story collections include The Delicate Prey and Other Stories, A Distant Episode: The Selected Stories and Collected Stories of Paul Bowles. A recurrent them in Bowles' work – the dilemma of an outsider in an alien society – is captured by Paul Gray in his Time review of Collected Stories:
"He writes from a sensibility that is foreign or at least remote from the American ordinary – a sensibility that identifies with nature, natural forces and spirit of place. The essential Paul Bowles plot charts a clash between two cultures, one usually Western and the other primitive. Visitors come to feast on the picturesque and take one step off the beaten path. Sometimes their fate is terrible."
Three short stories caused a major stir in the literary world when they first appeared in the 1940s: "A Distant Episode," "Pages from Cold Point" and "The Delicate Prey." As Gore Vidal wrote, "they were immediately recognized as being unlike anything else in our literature…as a short story writer, Paul Bowles has had few equals in the second half of the twentieth century."