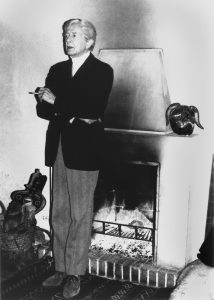 Biography
---
Paul Bowles was born in New York in 1910. He grew up in New York and New England and attended the University of Virginia.
When he was 17, the Paris-based avant-garde magazine transition published some of his poems and Bowles went to Paris. There, he presented himself to Gertrude Stein, who advised him to go to Morocco. Bowles altered his previous plans and went to Tangier. "As a result of this arbitrary action my life was permanently altered," he recalls.
Paul Bowles studied composition with Aaron Copland in New York and Berlin and with Virgil Thomson in Paris. His opera, "The Wind Remains," was performed in New York in 1943, conducted by Leonard Bernstein. During the thirties and forties, Bowles composed theater music for Broadway plays, including Tennessee Williams' "The Glass Menagerie."
In 1938, he married the brilliant, eccentric writer, Jane Auer .They lived in Mexico and New York, where they shared a house with W. H. Auden and Benjamin Britten. At the end of World War II, they moved to Tangier, Morocco. Their presence attracted leading literary figures and Tangier became a literary mecca. Barbara Hutton, the Woolworth heiress, bought a palace in the Casbah, where she threw lavish parties for the international literary set.
Jane Bowles died in 1973. Paul Bowles currently lives in Tangier.
Biographical information prepared the year of the award.