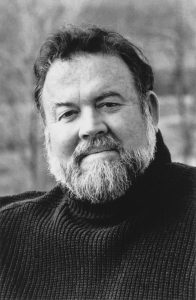 George Garrett
Barry Hannah
Jayne Anne Phillips
Press Release
---
The $30,000 Rea Award for the Short Story has been awarded to ANDRE DUBUS.
Jurors for the 1996 Rea Award for the Short Story were the writers George Garrett, Barry Hannah and Jayne Anne Phillips.
In selecting this year's winner, the jury gave the following citation:
"We vote the award for short story to Andre Dubus for his conspicuous and enduring chronicles of the American soul. His prose is muscular and trustworthy and, under his hand the form of the story thrives with basic life."
The Rea Award for the Short Story was established in 1986, to honor a writer who has made a significant contribution to the short story. It is given annually by the Dungannon Foundation to a living U.S. writer. The award cannot be applied for; the recipient is nominated and selected by a jury.
Andre Dubus has been committed to the short story as his primary form of fiction writing. His short story collections include Separate Flights, Adultery and Other Choices, Finding a Girl in America, The Times are Never So Bad, The Last Worthless Evening, Selected Stories and a new collection, Dancing After Hours.
Dancing After Hours, published in early 1996, appeared almost a decade after his previous collection, Selected Stories. The long silence was due to an accident which left Andre Dubus bound to a wheelchair. Stopping to help a motorist in trouble on his way home one night, he was struck by a car, shattering both of his legs. His belief in living life to the fullest is reflected in the title story of Dancing After Hours. One night in a bar, a quadriplegic tells about his decision to go skydiving. His risk-taking influences a young woman, who has led a self-imposed lonely life, to open herself up to people and new experiences.
Human relationships and how they play out in daily life are depicted with rare authenticity in Andre Dubus' stories. "What he gives us is an unastonished account of his characters' puzzlements and desires, and those small moments in which momentous movements of the heart happen," said Eva Hoffman in her New York Times review of Selected Stories. "If you're willing to listen to the nuances of his music, you'll find that, in his own register, he has near perfect pitch that can transfigure the commonplace."
About Dancing After Hours, Paul Gray said in Time: "Dubus is an artist who manages to produce work at once harrowing and exhilarating." Richard Bausch said in his New York Times review: "In demonstrating, once again, why he is celebrated as a writer of short fiction, he also shows why the form itself is so persistent. For the fact is that there are matters of the spirit the short story addresses better than any other literary art." Elmore Leonard said about Dubus' work: "You'll recognize Andre's people: you might very well be one of them."