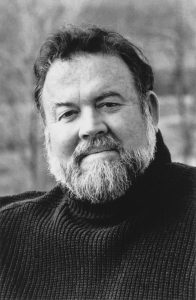 Biography
---
Andre Dubus was born in 1936 in Lake Charles, Louisiana. He grew up in Lafayette, Louisiana and, as a boy, attended Christian Brothers Catholic schools. "Catholicism is a major influence on my work," says Andre Dubus. "It pervades my writing."
He obtained his B.A. from McNeese State College in Lake Charles, Louisiana, in 1958. After graduating from college, he spent five years in the Marine Corps, where he attained the rank of Captain. He then went on to study at the Iowa Writers Workshop and received an MFA from the University of Iowa in 1965. In 1966 he accepted a teaching position at Bradford College, Bradford, Massachusetts in modern fiction and creative writing – an association that lasted until 1984.
In 1986, Andre Dubus was hit by a car while trying to help two motorists in distress on a highway, resulting in the loss of one leg and use of the other. Since then, he has been confined to a wheel chair. The accident and its aftermath are discussed in his collection of essays, Broken Vessels. He was married three times, with each of his marriages ending in divorce. He has six children, four from his first and two from his third marriage.
Andre Dubus is the author of the novels, The Lieutenant and Voices from the Moon. His short story collections are Separate Flights, Adultery and Other Choices, Finding A Girl in America, The Times Are Never So Bad, The Last Worthless Evening, Selected Stories and Dancing After Hours.
He has received the PEN/Malamud Award, the Jean Stein Award from the American Academy of Arts and Letters, the Boston Globe's first annual Lawrence L.Winship Award, and fellowships from the Guggenheim Foundation, the National Endowment for the Arts and the MacArthur Foundation.
Andre Dubus lives in Haverhill, Massachusetts.
Biographical information prepared the year of the award.