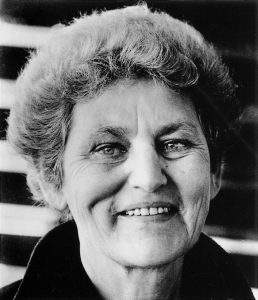 Biography
---
Tillie Olsen was born in Omaha, Nebraska, in 1912. The daughter of Russian immigrants, she was raised in a working class, socialist environment. Growing up during the Depression she did not go to college, but early on got caught up in the struggle for survival, working at whatever jobs she could find.
She is the author of the short story collection, Tell Me A Riddle, the novel, Yonnondio: From the Thirties, the novella Requa -1, and a book of essays,Silences. She is the editor of Mothers and Daughters: That Special Quality – An Exploration in Photographs and Mother to Daughter, Daughter to Mother: A Daybook and Reader.
Among the colleges where she has taught or been a writer in-residence are M.I.T., Amherst College, Stanford University, and Kenyon College. She is the recipient of six honorary degrees, and awards from the National Endowment for the Arts, and the Guggenheim Foundation. She lives in San Francisco.
For twenty years, Tillie Olsen devoted her energies to earning a living and raising four daughters – two decades during which she was "silenced" as a writer. Her first book, the short story collection Tell Me A Riddle, was published in 1962, when she was fifty years old. It will be re-issued by Dell, with an introduction by John Leonard, in the fall of 1994.
Her novel about the Depression, Yonnondio, was begun when she was 19. A portion of the manuscript appeared in 1934 in the second issue of The Partisan Review. In her biography for the magazine, she listed her occupations as tie presser, hack writer, model, housemaid, ice cream packer and book clerk. The novel was never finished and thought irretrievably lost. However, remnants were found among some old papers and pieced together and published in 1973.
The relationship of circumstances – including class, color, sex, the times, climate into which one is born – to the creation of literature is the subject of her book of essays, Silences. "Tillie Olsen's is a unique voice," said Margaret Atwood in her New York Times review of Silences. "Few writers have gained such wide respect based on such a small body of published work. Respect is too pale a word: 'reverence' is more like it."
Biographical information prepared the year of the award.