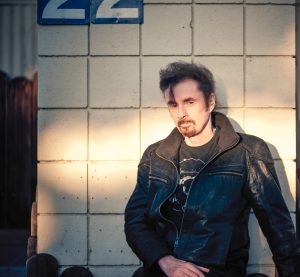 ---
Connecticut Magazine
May 2015
T.C. Boyle's Latest Award: A Short (True)Story Set in Connecticut
By Douglas P. Clement
It's late afternoon when T.C. Boyle calls-early evening on the West Coast, where he has just traveled through a gorgeous high pass landscape as part of the book tour for his 15th novel, The New York Times bestseller The Harder They Come, released in March.
There are no lonely corners of near-empty bookstores for Boyle, no folding tables from Target stacked with crisply-printed books longing for the human touch. He's a rock star in the world of writers, an in-demand performer who draws big crowds to hear his gymnastically coiled words spring to life. ("I'm sort of a natural actor,' says Boyle, who likes to give a dramatic presentation in a darkened theater "in a way we first heard stories:")
Adding to a long list of prestigious awards, Boyle was recently given the Robert Kirsch Award for Lifetime Achievement as part of the 2014 Los Angeles Times Book Awards (like taxes, literary awards that arrive in the spring are typically for the preceding year).
But it's another award that we've connected to talk about, the 2014 Rea Award for the Short Story, announced in late April, which comes with a $30,000 prize and represents a Connecticut initiative in its 29th year.
The late Michael M. Rea founded the award in 1986 to encourage the writing of short fiction. Given annually, it recognizes a living U.S. or Canadian writer who has made a significant contribution to maintaining the short story as an art form. The award is sponsored by the Dungannon Foundation, overseen by Rea's widow, the photographer Elizabeth Richebourg Rea, who lives in Litchfield County. This year's jurors—who nominate writers and choose the winner—were Richard Bausch, Robert Olen Butler and Elizabeth Strout.
In honoring Boyle they wrote: T.C. Boyle is a genuine American original. In more than one hundred short stories and ten story collections (plus fifteen novels), Tom Boyle has furnished his own highly public and deluxe corner of contemporary American letters. His stories fairly glitter with imagination, an immense variety, hilarity, ambition and achieved talent. To his enduring credit and his readers' delight and [amazement], less is not in the Boyle fictive vocabulary, though in his Stories' dedication to matters of the heart and the human spirit, his finely tuned wit and his vision of our sometimes sad American fate have nothing of the cynical or the hopeless. His incomparable stories, even in their occasional dark interludes, always come to us as a celebration. They redeem us and delight us and awaken our awareness as the finest writing should.
The Rea Award "took me completely by surprise," says Boyle, who thinks of short stories as an art form: "It's like writing poems or painting pictures or composing music."
"I take it as a challenge to write in any mode from any point of view," Boyle says of his process, which often begins with a "what if" moment. "I'm always looking for new modes of storytelling, both in the novel and the story.'"
The results are powerfully demonstrated in Boyle's story Swept Away, about the Shetland Islands off the coast of Scotland, a place he's never visited but researched well. Told in a form like a folktale-which Boyle calls his favorite story form—Swept Away is referenced in the preface to T. C. Boyle Stories II: The Collected Stories of T. Coraghessan Boyle, Volume II, which was adapted for publication in The New Yorker in October 2013:
To me, a story is an exercise of the imagination—or, as Flannery O'Connor has it, an act of discovery. I don't know what a story will be until it begins to unfold, the whole coming to me in the act of composition as a kind of waking dream, and it might begin with the exploration of a subject or a theme or a recollection or something as random as my discovery that the wild creatures in Tierra de/ Fuego were going blind as a result of the hole in the ozone layer that opens up there annually or that the Shetland Islands is the windiest place on earth. The professorial dictum has always been to write what you know, but I say write what you don't know and find something out. And it works. Or can work. After all, a story is a seduction of the reader and such a seduction can so immerse him or her that everything becomes plausible. And so with Swept Away the wind story, which appears in my new volume of collected stories. I'd never been to the Shetland Islands, though I'd been near enough-on a fishing boat off Oban, where I nearly froze to death-but the story came to me as if I'd been born and raised there in some other life. After it appeared in The New Yorker, I heard from the editors of The Shetlander, the magazine of the islands, who wanted to know when and where I'd lived amongst them…
"He is amazing," Elizabeth Rea (below) says of Boyle, citing his "incredible capacity to have a 22-city book tour … He had audiences of up to 1,000 in Los Angeles."
Despite all of his success, Boyle, as Rea notes, is "really touched by getting the Rea Award." He has a passion for the short story-and, as the Rea Award is both fostering and counting on, so do American readers.
---
The Litchfield County Times
New Milford, CT
May1, 2015
Art of the Short Story
By John Fitts
WASHINGTON, Conn. – With a career that includes 24 works of fiction and countless honors, T. Coraghessan Boyle is a highly accomplished writer. But a phone call from Washington, Conn. resident Elizabeth Rea to inform Boyle that he had won the 2014 Rea Award for the Short Story still struck a chord, especially since he is in the midst of a long, grueling book tour.
"She just floored me with the news," Boyle said. "It was really wonderful."
Boyle is the 29th winner of the award, started by Rea's late husband Michael M. Rea.
Mr. Rea was a Marine Corps veteran, realtor, businessman and art collector who absolutely loved reading and writing, especially short stories.
Mr. Rea, who obtained a B.A. in English from the University of Virginia, also became, a publisher, editor and collector of first-edition short stories.
Inspired by his Northern Ireland roots, he later founded the Dungannon Foundation, to bestow the annual Rea Award for the Short Story. The first award came in 1986, 10 years before Mr. Rea's death. It's awarded by a panel of jurors, which this year included Richard Bausch, Robert Olen Butler and Elizabeth Strout.
Following a tradition started by her late husband, Mrs. Rea, who is now president of the foundation, does not get involved in the selection but does make the personal phone call to the winner.
"I'm just so thrilled that T.C. Boyle won," Mrs. Rea said. "He's long overdue."
While Mrs. Rea said the award is not about the amount of work, Boyle is more prolific than most when it comes to short stories. He's constantly working on the briefer glimpses at life and drawing influences from "anything and anybody." He's written more than 100 short stories.
He continues to write and strives to read his shorter stories to audiences, even while on tour promoting his latest novel.
And this is all despite the fact that a visiting writer to the University of Iowa once told Boyle and his classmates that there was no money in the short story.
"We were disheartened by it but I stuck with it," he said. "I didn't care about that. I wanted to express my feelings to the world."
Honoring and encouraging such attitudes was a goal of Mr. Rea's and a large reason he started the foundation, which also sponsors Rea Visiting Writers and Rea Visiting lectures at the University of Virginia and Selected Shorts: A Celebration of the Short Story at Symphony Space in New York City.
"The Irish were great storytellers," Mr. Rea once said, according to a submitted release. "The basic thrust of the award is to foster a literary cause, to ennoble the form, to give it prestige." "He wanted to encourage" short story writing, Mrs. Rea said, adding that she also loves the form and continuing the award.
"I enjoy doing it," she said. "It will continue in perpetuity."
Boyle is already working on the next collection of short stories. While some of the titles, such as The Relive Box recently published in The New Yorker, are finished already, he said he has several more to write.
Boyle said the award, which is for $30,000, comes at a great time. He said it will help him fund a trip to the mountains and focus on finishing the short story collection.