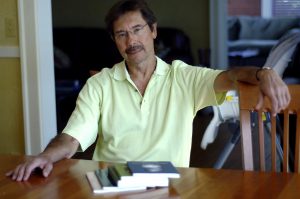 ---
The Litchfield County Times
New Milford, CT
September 28, 2007
2007 Rea to Chicago's Dybek
WASHINGTON-In an extraordinary coincidence of timing, Stuart Dybek, the first Distinguished Writer in Residence at Northwestern University, was named the recipient of the 2007 Rea Award for the Short Story and a $30,000 prize following Tuesday's announcement that he has been named a 2007 MacArthur Fellow.
Widely recognized as the living American author most identified with Chicago, Mr. Dybek joins the ranks of distinguished contemporary writers who have received the Rea Award, one of America's most prestigious prizes for short-story writing. The award, established by the late Michael M. Rea in 1986 and sponsored by the Dungannon Foundation, is based on peer recognition of a living American or Canadian writer whose work has contributed significantly to the short story form and has influenced the genre.
Past Rea Award winners include John Updike, Alice Munro, Grace Paley, Richard Ford, Joyce Carol Oates, Lorrie Moore; Deborah Eisenberg and Cynthia Ozick.
Elizabeth Richebourg Rea, president of the Dungannon. Foundation said, "He is overdue, his win is long overdue. To me he represents his neck of the woods—Chicago—which is always important; a writer writing in his milieu and what he has to give to the world to express that.
"To win the Rea Award the same day as the MacArthur Fellow is a great week for him when all of his hard work and dedication to writing is paying off in terms of prestige and also financially. As a writer you're happy with writing and that is part of your imagination, and you continue to write, but you also need to feed your family. It is hard to find the time to write if you have to work. This will give him time to write more."
As one of the 24 MacArthur Fellows announced to the world by The John D. and Catherine T. MacArthur Foundation yesterday, Mr. Dybek, a master of sentences, rhythm and unforgettable imagery, has received extraordinary recognition this week for talents already well known to the literary world. The unrestricted MacArthur fellowships, each with a $500,000 "no strings attached" award, are based on "creativity, originality and potential to make important contributions in the future."
The recognition of Mr. Dybek's work with two big honors within a day of each other confirms the standing he has with peers as well as with his growing readership following the publication of his recent books.
"The writer's life is feast or famine, and this is his time to feast," said Andre Dubus III, one of the Rea Award jurors. "The beauty of these two awards is that it gives Stuart well deserved time to create. And that benefits all of us. His work is about working-class Chicago in the mid-20th century, but it's about the rest of us, too."
Mr. Dybek, who nominated Grace Paley for the Rea Award she received in 1993, described the gratification of being recognized by Rea jurors.
"Being recognized by my peers is somewhat akin to how I feel when someone from the South Side of Chicago says I loved Coast of Chicago or I Sailed with Magellan—you really nailed it. That person is speaking from life experience and knows what seems true or fake. When a panel of peers—who live our craft and share the same language tools—says you got it right, I get a similar kind of feeling. It's very gratifying."
In a sense, Mr. Dybek returned home last year with his Northwestern appointment and participation in the university's nationally renowned English Major in Writing for undergraduates. Northwestern Evanston campus is only a few miles from Chicago, the home of his richly imagined South Side boyhood neighborhood. His masterful storytelling brings alive the city's factories, viaducts and boarded-up storefronts with protagonists who run the streets, crossing all kinds of boundaries, including the nearly mythical divide between the north and1south sides of Chicago.
The following is an excerpt from a citation about Mr. Dybek's work from this year's Rea jurors, Mr. Dubus, Rick Moody and Roxana Robinson:
"Dybek's fictional Chicago, set in the poor parts of the city during the 1950's, is full of immigrants. Most of these are eastern Europeans, hurled by the explosion of World War II into a harsh and unforgiving vision of the promised land. This is a world informed by the constant grieving memory of the Old World and by the monstrous, beating presence of the New. Dybek's rendering of this place is tender and unapologetic, without judgment or blame.
"He explores his people's lives from within tracing their threatened sense of identity, the desperation of their survival, the terrifying nearness of madness and despair, the saving presence of humor and the luminous presence of love… Like the great Isaac Babel, Dybek has rescued this world from oblivion. In doing so he has enriched our souls."
Mr. Dybek is the author of three books of fiction. Childhood and Other Neighborhoods (1980) is his first book; The Coast of Chicago (1990) was the 2004 selection of Chicago's One Book, One Chicago, in essence a citywide book club; and I Sailed with Magellan (2003) was chosen by The New York Times and the American Library Association as a notable book of the year and by the Chicago Tribune as the best book of the year.
His two collections of poetry are Brass Knuckles (1979) and Streets in Their Own Ink (2004). His writing has been frequently anthologized and has appeared in numerous periodicals, including The New Yorker, Harper's Magazine, The Paris Review, The Atlantic Monthly, Poetry and TriQuarterly.
Other honors for Mr. Dybek's work include the PEN/Bernard Malamud Prize, a Whiting Writer's Award, several O. Henry Prizes, a Lannan Prize and two Pushcart Prizes.
My Dybek attempted to describe the Chicago tradition of writing in response to a question he was asked in 2001 when he was a visiting writer in residence at Northwestern's Center for the Writing arts. "As a generalization, I'd hazard emotion," Mr. Dybek said. "Feeling is something you risk as a Chicago writer and there is a sense of heart to many of the stories. A lot of where that heart is coming from is an understanding of class, which, of course, is connected to immigration and assimilation. It's a rare element in American writing."
Following the death of Saul Bellow in 2005, the Chicago Sun-Times "spent the better part of a week calling around town to writers, book­sellers, academics and editors to see who the big Chicago writers are in this post-Bellow era." According to Chicago Sun-Times reporter Tom McNamee, "Only Dybek was named by everyone. "
Mr. Dybek also is recognized for his commitment to teaching. "We were absolutely thrilled to get Stuart back in the Chicago area, the setting of his writing," said Daniel Linzer, Northwestern's provost. "He not only is a great writer, but he also is an excellent teacher who communicates his passion for writing to students."
Before joining the Northwestern faculty, Mr. Dybek was a professor of English at Western Michigan University, where he directed its MFA program.
---
Palm Beach Daily News
October 17, 2007
Dybek wins Rea short-story prize
By Jan Sjostrom
Daily News Arts Editor
The annual award, announced recently by the Dungannon Foundation, was established in 1986 by the late Michael Rea, a part-time Palm Beacher, to honor living American or Canadian writers who have made a significant contribution to the art form. Past winners include Joyce Carol Oates, John Updike, Ann Beattie, Richard Ford and Alice Munro.
Winners are chosen by a panel of writing peers. This year's jurors were Andre Dubus, Rick Moody and Roxana Robinson.
In their citation, the judges noted that Dybek has created a vivid world from the history of his native Chicago. Set in the 1950s, his stories feature eastern European immigrants displaced by World War II and painfully adjusting to their new environment.
"Dybek's rendering of this place is tender and unapologetic, without fear or blame," the judges wrote. "He explores his people's lives from within, tracing their threatened sense of identity, the desperation of their survival strategies, the terrifying nearness of madness and despair, the saving presence of humor and the luminous presence of love."
Dybek has published three short story collections and two volumes of poetry. His work is frequently anthologized and published in major magazines.
He is the recipient of many awards, including the PEN/ Bernard Malamud Prize, a Lannan Literary Award for Fiction and the Academy Institute Award in Fiction from the American Academy of Arts and Letters.