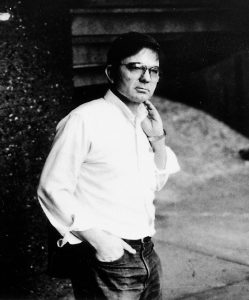 ---
Palm Beach Daily News
April 28, 1987
Islander Sponsors Annual Writing Award
By Chris Romoser
In many ways, Michael Rea resembles the archetypical Palm Beacher: He winters in Palm Beach, likes the sun, loves to fish, shuns the cold.
In other ways, the stout man with silver hair is strikingly different from his neighbors. While Palm Beach is something of a mecca for artists and designers, it is not a wellspring of literary activity.
And while Rea might not be the only Palm Beach aficionado of good writing, he is openly and generously appreciative of the art form. As president of the Dungannon Foundation, he sponsors the Rea Award, a $25,000 award given annually to an American short story writer.
The award, which honors a living American writer who has made a significant contribution to the short story as an art form, was given this year to Robert Coover.
"The award is given each year to a writer who appreciably widens the range of what a short story can be," Rea said yesterday from his Palm Beach home. "The thrust of the award is aesthetics. The short story is a compacted literary form. It doesn't have to be tremendously intellectual, but it does have to have dimension and character."
Coover is an adjunct professor of English at Brown University. Although he has written five novels, including The Origin of the Brunists, which won the Faulkner Prize for the best first novel in 1965, Coover is best known for his short story collections, Pricksongs and Descants and A Night at the Movies.
"Michael Coover is a very good short story writer," Rea said. "He hasn't written too much lately, but what he has written has been good stuff. The award is not given for a particular work, but a body of work. Coover has a good body of work. I think he was a good selection."
Rea established the Dungannon Foundation and the Rea Award two years ago. The foundation is a private family foundation that provides a vehicle for Rea's appreciation of the short story. "In a way I like to think I'm doing my share to nurture the art form and give notice to American writers that are producing it at its best," Rea said.
The recipient of the award (Cynthia Ozick won last year) is nominated and selected by a jury. This year's jury consisted of Benjamin DeMott, author and critic; Stanley Elkin, author and winner of many writing awards, including the National Book Critics Award and PEN Faulkner Fiction Award; and Shannon Ravenel, editor of the The Best American Short Stories since 1977.
"I thought this year's jury was an excellent one for deciding the merits of writers' short stories," Rea said. "All three jurors are literary heavyweights who understand and appreciate good writing. I found that they worked good together as a team of arbiters."
An art and book collector who has a library of 400 volumes of important short story writers, Rea said a great short story can "come from the pen of just about anyone," but that "much of today's writing seems to have a kind of shallowness to it.
"I really don't understand it," Rea said, "there are a lot of good, good writers out there today, but much of what's being written—too much— revolves around mundane topics that don't seem to say a whole lot to the searching reader. I think there's a thirst that's not being quenched, which is not to say you have to be a Melville or a Chekhov to get the job done."
Although he retired from business five years ago, Rea has known Palm Beach all his life. His grandparents wintered in Palm Beach before World War I. After spending a few seasons in a cottage at The Breakers, they purchased a Mizner house on Lagomar Road. Like his grandparents, his parents also took an interest in Palm Beach and raised their son amid the wavering palms and palmetto bushes.
Rea went to school in Palm Beach during the 1930s when the resort town was "a small village that afforded a kid like me a nice place to live and some of the best fishing around." Today, the 60-year-old sees an island that hasn't changed much over the years. "Most places in Florida have radically changed in recent years," Rea said. "Palm Beach is a village that is reasonably unchanged, and at the same time, it's a much more interesting place now. Today, Europeans have made it more of a cosmopolitan place."
Rea tries to spend as much time in Palm Beach as he can, he said. His wife, Elizabeth, is a part of the New York art world, and the two spend quite a bit of time in New York and Connecticut; where they also have homes.