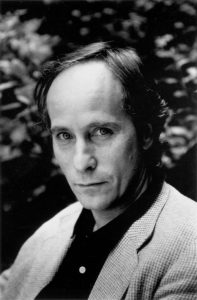 Biography
---
Richard Ford, novelist, short story writer and essayist, was born in 1944 in Jackson, Mississippi and raised in Jackson and Little Rock, Arkansas.
He received his B.A. from Michigan State University in 1966, where he studied literature and began to write stories. After a brief stint at law school at Washington University in St. Louis, he went on to obtain his M.F.A from the University of California at Irvine. Richard Ford has taught writing at Princeton University, Williams College and the University of Michigan.
He is the author of the novels A Piece of My Heart, The Ultimate Good Luck, The Sportswriter, and Wildlife. A new novel, Independence Day, will be published by Knopf in June 1995.
Richard Ford's collection of short stories, Rock Springs, was published in 1987 by the Atlantic Monthly Press. "The Sportswriter established a glittering reputation," said Paul Gray in Time Magazine. "The stories in Rock Springs confirm it."
The film "Bright Angel," for which Richard Ford wrote the screenplay, was based on two stories from Rock Springs and a new story. Starring Sam Shephard, it was shot on location in Montana.
His short stories have been widely anthologized and have appeared in Esquire, The New Yorker, Vanity Fair and Granta. He is the editor of The Granta Book of the American Short Story.
He and his wife, Kristina, a city planner, moved to Montana in 1983, when she took a job as planning director of Missoula. There, they lived in a remote cabin in the Highwood Mountains of Montana, about thirty miles from Great Falls, setting of the novel, Wildlife and a story in Rock Springs. Richard Ford and his wife have lived in many different parts of the U.S. and in Mexico. Currently, they live in New Orleans.
Richard Ford has been awarded a Guggenheim Fellowship, two grants from the National Endowment for the Arts, a Pacific Northwest Bookseller Association Book Award, the Mississippi Academy of Arts and Letters' Literature Award, the New York Public Library Literary Lions Award and an American Academy of Arts and Letters Award for Literature.
Biographical information prepared the year of the award.