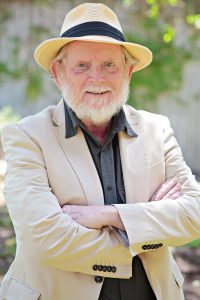 Biography
---
Richard Bausch is the author of eight collections of stories and eleven novels.  His story collections include the recently published Something is Out There (2010), The Stories of Richard Bausch (2004), Someone to Watch Over Me: Stories (1999), Selected Stories of Richard Bausch (1996), The Fireman's Wife and Other Stories (1990) and Spirits and Other Stories (1987). His novel, The Last Good Time was made into a feature-length motion picture, directed by Bob Balaban, starring Armin Meuhler-Stahl, Maureen Stapleton, and Lionel Stander, released in April 1995, and Peace, published in 2008, was awarded the 2010 Dayton International Literary Peace Prize.
While Bausch's novels have been met with critical acclaim, his mastery of the short story form is arguably his greatest literary achievement. In addition to his published story collections, his work has appeared in The Atlantic Monthly, Esquire, Harper's, The New Yorker, Narrative, Gentleman's Quarterly, Playboy, The Southern Review, New Stories From the South, The Best American Short Stories, O. Henry Prize Stories and The Pushcart Prize Stories; and they have been widely anthologized, including The Granta Book of the American Short Story, and The Vintage Book of the Contemporary American Short Story. The Modern Library published The Selected Stories of Richard Bausch in March, 1996, a distinction rarely accorded to a contemporary writer.
Donna Seaman writes in Booklist: "An intrinsically American writer, Richard Bausch captures the sense of alienation that haunts so many of us, the feeling that life is arbitrary, bereft, and absurd, and that even those closest to you are, in fact, total strangers, and none too benign. Again and again in Bausch's riveting short stories, siblings, spouses, and parents and children suddenly find themselves in conflict or utterly estranged. And yet in spite of their isolation, Bausch's down-on-their-luck characters also feel trapped. Helpless in the grip of anger, fear, or longing, they lash out, lie, badger, argue, and disappear. Confusion reigns; life is 'so frail and precarious'; violence is always a possibility; and sources of joy–a pregnancy, winning the lottery–turn out to be liabilities. But these are truly redemptive tales given that Bausch illuminates both benevolent and malevolent aspects of human nature with dark humor, a spiky imagination, consummate artistry, and unfailing compassion."
Richard Bausch has won two National Magazine Awards, a Guggenheim Fellowship, and a Lila-Wallace Reader's Digest Fund Writer's Award, the Award of the American Academy of Arts and Letters, and The 2004 PEN/Malamud Award for Excellence in the Short Story. In 1995 he was elected to the Fellowship of Southern Writers. In 1999 he signed on as co-editor, with R.V. Cassill, of The Norton Anthology of Short Fiction.  Today Bausch remains the sole editor of this prestigious anthology after the passing of Cassill in 2002. In February 2012 Bausch received from Centenary College, The John William Corrington Award for Literary Excellence.  Bausch is currently with The Writing Program at Chapman University in Orange, California.