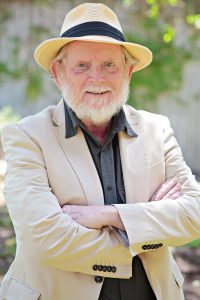 ---
Orange County Register
Orange County, CA
May 28, 2013
A full share of good writing
Richard Bausch knows the value of playtime, too.
By Joseph Pimentel
The nails on Richard Bausch's right hand are tough, well manicured and at least half an inch long.
"I play the guitar, and these are my picks," he says.
His left hand proves the toll of playing for years. He flips it open. It's callused. His fingertips look like spiraled lava craters.
The 68-year-old is wearing his trademark fedora and lounging around at a table outside The Filling Station, a popular local restaurant a couple of blocks from Chapman University, his new professional home.
He's soaking up the Southern California weather. He looks around the patio, a smile cracks before gushing about his new situation.
"I love it here," he says. "When the weather says 71 degrees, it fells like 71 degrees. In Memphis when it says 71 degrees, it feels like 88."
Bausch, who for years sat on the Moss Chair of Excellence in English at the University of Memphis is Chapman's new creative writing professor. He's affable and witty.
He's also a literary heavyweight, a highly acclaimed champion in short-story from whose resume casts a long shadow on his contemporaries and students.
He's written 11 novels, eight short story books and one collection of poems and
prose.
His work has been well reviewed and critically acclaimed, nationally and internationally. The San Francisco Chronicle said of one of his books, Bausch is "So emotionally insightful, so masterful in·subtle manipulation of plot and theme that the sheer beauty of the stories' construction will move you almost as much as what happens in them."
Most recently, he won the Michael Rea award – considered the Nobel Prize for short story writing – and a $30,000 award to go with it for his contributions in the short story genre.
In short, this guy's a genius.
From the outside, Bausch is stern and serious – a stereotypical Ray Bradbury figure. He mercilessly sits behind his typewriter pounding away at keys inside a "writing shack" behind his home in Orange.
His works give off this impression of him. His characters are troubled, dark and heartbreaking. Years of pain and watching loved ones die have also contributed to his characters' sullen lots.
Eight of his family members and friends, including his sister, brother-in-law and best friend, have died in car wrecks.
"When I see someone about to drive away, I tell people to take care and I really do mean it," he says.
Bradbury once said writers should not be afraid to explore the dark attic of their minds. Bausch lives there, investigating cracks and crevices in pitch black darkness.
His answers to questions about his work and writing style are short and to the point.
Little known fact: Bausch is an avid video gamer – sometimes playing up to four hours a day.
He's been a gamer from Day One, "since the first ones – 'ac Man and Space Invaders in the early '80s."
He doesn't play only one game and put the controller down. He immerses himself.
The man who makes a living by writing descriptive, lifelike characters is just as arden about video games.
Ask him about the game he's currently playing – MLB 2013 – and his eyes light up. He plays Road to the Show, a feature in the game that enables gamers to create a player and build up their stats to play in the Major Leagues. From the name and number on the jersey to the hometown, pitching style, batting stance and attributes – Bausch is in con­trol of his own virtual "Natural."
This season, he has created a pitcher for the Yankees, whose stats are stellar: 21 wins to one loss, 285 strike outs and seven shut outs, he says proudly.
He adds a historical twist when he plays, adding the names of his old-time favorite players such as Mickey Mantle and Lou Gehrig.
"When they come to bat, I feel like a kid again listening on the radio," he says.
Gaming he says, is his way to reward himself after working.
"What I usually do is for every two hours of writing, I remyself with one hour of play time. Sometimes though I find myself playing two to four hours a day and I have to stop myself. It gets out of hand sometimes," he says.
Don't get him wrong. He's still serious about his work. He gulps down literary greats like Shakespeare, Tolstoy and Chekhov.
He believes all writers have a "moral obligation" to write.
A friend of his, a poet whose son died after wandering into the street, later came across the same scenario: A little boy wandering near the road. Shaken he stopped, to lead the child to safety. The toddler's parents came out and were angry with the boy. The poet explained that he had lost his son that way. He came home and started to write a poem about it.
But he felt guilty and called Bausch, lambasting himself for doing such a thing.
"There are people out there who have suffer this loss, and they don't have words for it, nothing for solace at all, even the meager solace of words," Bausch told him. "you have to write the poem because you have the gift of this ability with words."
Though he left University of Memphis acrimoniously, he couldn't have found a better place than Chapman, he says.
"The administration is great. There's a real good sense the English department and the creative writing department get along."
He didn't want to elaborate on why he left Memphis, just saying "suffice it to say, it was time to move on."
He said one of the requirements of his employment at Chapman was an allowance for four $18,000 fellowships to give to students. He also made it a priority to host a free, community creative writing class every semester.
After Chapman adminis­trators agreed, he was sold. But he and his wife still had to convince his young daughter on the move.
"If she had said no, we probably wouldn't be here," he says. "Last year, we took a road trip out here. We were driving down Laguna Beach and I'm just watching her, looking outside the window. She turns around and asks us, is that the ocean? We said, 'Yeah.' Then she re­sponds, 'This is pretty freakin' cool.' "
He and the family are getting used to Southern California living.
His 7-year-old daughter has already visited Disneyland four times. He's looking forward to attending- his first Angels game. And he finds it amusing how everyone here has to drive everywhere, no matter how short the distance.
At the age of 68, he could pretty much do whatever he wants. But retirement is not an option.
"Retirement to me is like waiting for God . … It's like waiting to die," he says.
Bausch plans to stay at Chapman for the long term and continue writing.
He says he has a lot left to write, sing and play.
Richard Bausch
Age: 68
Twin brother: Robert Bausch, who wrote the book Almighty Me, which was later turned into the hit movie Bruce Almighty starring Jim Carrey.
Born In: Fort Benning, Ga.
College: George Mason University and University of Iowa
Career: Writer, professor
Relationship status: Married
Bausch's books
Richard Bausch has written 20 books including 11 novels, eight collections of short stories and one volume of poetry and prose. His latest five books:Something is Out There
Hello to the Cannibals
Thanksgiving Night
Peace
The Stories of Richard Bausch
His 21st book, a novel, is expected to be released early next year.
---
Hartford Courant
Hartford, CT
Arts
May 5, 2013
Short Story Award
Richard Bausch, author of the recent story collection Something Is Out There and 11 novels, is the winner of the annual Rea Award for the Short Story.
The prize is awarded in memory of Michael M. Rea, a businessman and collector of first editions of American short stories. Dungannon Foundation, named for the Irish hometown of his father's family, is administered by Rea's widow, Elizabeth Richebourg Rea, out of Washington, Conn.
Poet and fiction writer Stuart Dybeck, and novelist Richard Ford were the jurors.
In announcing the award Dybeck and Ford issued this statement about their choice: "Bausch's stories, solidly, eloquently in the realistic tradition shared by O'Connor (Frank and Flannery). Welty, Cheever and Yates, are ever in search of the heretofore unsayable in human affairs. In doing so, they are incisive, surprising, felicitous, various, often mirthful, and unstintingly about those subjects we can not afford to ignore: matters of life and death, yes; but chiefly matters of life sustained."
Also, Rea Awards stated: "While Bausch's novels have been met with critical acclaim, his mastery of the short story form is arguably his greatest literary achievement.
In addition to his published story collections, his work has appeared in The Atlantic Monthly, Harper's, The New Yorker, Narrative, Gentleman's Quarterly, Playboy, The Southern Review, New Stories From the South, The Best American Short Stories, O, Henry Prize Stories and The Pushcart Prize Stories; and they have been widely anthologized, including The Granta Book of the American Short Story, and The Vintage Book of the Contemporary American Short Story. The Modem Library published The Selected Stories of Richard Bausch in March, 1996, a distinction rarely accorded to a contemporary writer."
Bausch is a professor at Chapman University in Orange, Calif.
The prize is $30,000.
More information: www.reaaward.org.
---
The Litchfield County Times
New Milford, CT
May 24, 2013
Richard Bausch Wins Short Story Award With Tie to Washington
By Douglas P. Clement
WASHINGTON- In recently giving the $30,000 Rea Award for the Short Story to author Richard Bausch, the force that shepherd and administer the prize issued another annual volley—via the printer's ink of the works being honored—in the war over whether all "content" should be treated equal.
It's not the proverbial issue of whether all content wrapped between the covers of books is created equal that is decided each year when the judges elevate one author above all others working in the short story genre—not for lifetime achievement or a body of work but for originality and influence on the genre.
In choosing Mr. Bausch to receive the 2012 Rea Award, jurors Stuart Dybek and Richard Ford decided that he has crafted stories that are unequal to those of other writers—in a favorable way.
It's with regard to the presentation of the stories that the news of the Rea Award feels each year like a shot across the bow of the ubiquitous, all-powerful Internet.
"Left to our own devices we're just all on the Internet now," said Elizabeth Richebourg Rea in early May, shortly after this year's award was announced. Ms. Rea, who has a home in Washington and continues to oversee the award created by her late husband, Michal M. Rea, a passionate reader and collector of short stories, reflected on the particular pleasure of reading a great short story in a tactile, not digital from.
"It's just really good to have books and sit down with a book," sad Ms. Rea. "I don't think books are dead. … Just having a library is a treasure to walk up to."
She was cheered about the prospect of books when more than one friend, responding to news that Mr. Bausch was being honored, said to her, "I'm going to rush to the library and get his books." The surprise, and delight stemmed from what wasn't said—that they would go online to look up the author and his works.
The other notable ripple on Ms. Rea's mind in discussing this year's award was the salutary prospects for serious writing and the short story, especially as the Rea Award moved into its second quarter-century with this year's honor being the 26th or "the first of the second tier," as Ms. Rea said, vowing "it will continue."
The award will continue because of the legacy that was left by Mr. Rea—who died in 1996—through the Dungannon Foundation, named after his Irish ancestors, and the rarefied writing will continue because, as Ms. Rea observed, the winner of the Rea Award are devoted not only to their craft but also to perpetuating it by being teachers.
"Teaching programs are very important, and more writer are participating," she said, recalling that her late husband went to the University of Virginia, where the Dungannon Foundation supports Rea visiting writer and visiting lecturers. A program with an emphasis on teaching and learning the craft of the short story has grown to wrap in poetry and visiting poets, as both genres value the primacy of each word.
Mr. Bausch, who lives in California, "is so excited to win," Ms. Rea said, explaining, "A lot of Richard Bausch's stories have to do with family, and gathering, and mystery … they're waiting for someone to come home."
"You kind of have the felling when reading his stories that he's in the story, behind the scenes of the story somewhere," she added.
In selectin this year's winner, Mr. Dybek and Mr. Ford gave the following citation:
"Richard Bausch is a shining light in the small group of great American story-writers. His stories, published in many languages and widely anthologized in our own country, bear out the directive that literature should renew our sensuous and emotional lives and foster a new awareness in its readers. [Mr.] Bausch's stories, solidly, eloquently in the realistic tradition shared by O'Connor (Frank and Flannery). Welty, Cheever and Yates, are ever in search of the heretofore unsayable in human affairs. In doing so, they are incisive, surprising, felicitous, various, often mirthful, and unstintingly about those subjects we can not afford to ingoinre: matter of life and death, yes; but chiefly matter of life sustained."
Richard Bausch is the author of eight collections of stories and 11 novels, according to the release announcing the award. His story collections include the recently published Something is Out There, The Norton Anthology of Short Fiction, "The Stories of Richard Bausch," "Someone to Watch Over Me," "Selected Stories of Richard Bausch The Fireman's Wife, and Other Stories and Spirits, and Other Stories. His novel The Last Good Time, was made into a feature-length motion picture directed by Bob Balaban, starring Armin Meuhler-Stahl, Maureen Stapleton, and Lionel Stander, released in April 1995, and Peace, published in 2008, was awarded the 2010 Dayton International Literary Peace Prize.
Mr. Bausch, the release said, has won two National Magazine Awards, a Guggenheim Fellowship, and a Lila-Wallace Reader's Digest Fund Writer's Award, the Award of the American Academy of Letters, and The 2044 PEN/Malamud Award for Excellence in the Short Story.
In 1995, he was elected to the Fellowship of Southern Writers. In 1999 he signed on as co-editor, with R.V.Cassill, of The Norton Anthology of Short Fiction. Mr. Bausch remain the sole editor of this prestigious anthology after the passing Cassill in 2002.
Michael M. Rea founded The Rea Award for the Short Story in 1986 to be given annually to a living United States of Canadian writer whose work has made a "significant contribution to the discipline of the short story form," the release recalled.
The Rea Award is unique in that it is not given for lifetime achievement, a collection of stories or for a writer's body of work but rather for originality and influence on the genre, the release noted.
Cynthia Ozick, the first winner of The Rea Award, said, "by now the Rea Award is an indispensable American institution and a coveted American prize It is our little Nobel—little only in the sense that it addresses the short form."
Previous winners of the Rea Award include Ann Beattie, Lorrie Moore, Grace Paley, James Salter and Tobias Wolff.
---
The Litchfield County Times
New Milford, CT
May 24, 2013
editorial
Advice: Read More
As faithfully as daffodils and tulips-those bright, unbashful spring sentries-rise each year to declare-the passing of winter's drab landscape, and then the lilacs that Eliot summons for the mixing of desire and memory, so too comes each spring the announcement of the annual Rea Award for the Short Story.
It is a prize for literature different than all others, as it honors the craftsmen who work in what can be a difficult, demanding form, which, when done well, can leave readers more profoundly moved than any novel or other long-form work.
The Rea Award was established by the late Michael Rea, a successful businessman who was devoted to the short story form, and now in its second quarter-century it is faithfully maintained by his widow, the photographer Elizabeth Richebourg Rea, who spends time at the Washington property the couple so loved.
This year's award went to author Richard Bausch, and as much as that delighted Ms. Rea, she was perhaps more cheered by the perseverance of serious writing and of books-perhaps bowed by the weight of the Internet but not by any means defeated.
The Rea Award reminds us of the power of literature, and of words, and even of the tactile nature of printer's ink and paper. Read a short story, touch, feel and flip the pages of book-your life will be better for it.
"The use of language is all we have to pit against death and silence." Joyce Carol Oates