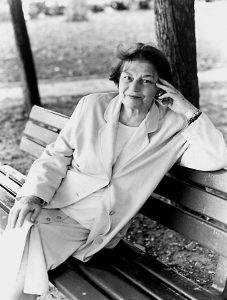 Biography
---
Mavis Gallant, an only child, was born in Montreal, Canada, in August 1922. Her father died when she was young, her mother remarried and Gallant was, in her own words, "set afloat," attending a series of 17 public, convent and boarding schools.
In 1944, she became a reporter for the Montreal Standard where she remained for six years. During that time, at age 20, she married John Gallant, but they divorced after five years. In 1950, she left her job at the newspaper to pursue fiction writing. She chose Paris as her home base, but has always remained a Canadian citizen. "I have arranged matters so that I would be free to write," she once told an interviewer. In another recent interview, she noted, "I came back regularly to Montreal, except in the period 1950 to 1955, when I didn't have any money."
Gallant achieved her ambition quickly — since 1951, she has published more than 100 stories, most of which first appeared in The New Yorker, where she continues to publish. Her stories are collected, along with several novellas, in: The Other Paris (1956), My Heart is Broken (1964), The Pegnitz Junction (1973), The End of the World and Other Stories (1974) and From the Fifteenth District: A Novella and Eight Stories (1979), Home Truths: Selected Canadian Stories (1981), Overhead in a Balloon: Stories of Paris (1985), In Transit (1988), and The Collected Stories of Mavis Gallant (1996). She is also the author of two novels, Green Water, Green Sky (1969) and A Fairly Good Time (1970), a play What is to be done? 1984, and a non-fiction work, Paris Journals: Selected Essays and Reviews (1986).
In 1981, Gallant received the Governor General's award for literature for her collection of stories, Home Truths. The same year, she was appointed an Officer of the Order of Canada, and in 1993 was raised to the Companion, the Order's highest level. She is a Foreign Honorary Member of the American Academy of Arts and Letters, and a Fellow of the Royal Society of Literature. Her more recent Canadian awards include the Molson literary award (1996), the Matt Cohen Award (2001) and a special achievement award from Montreal's Blue Metropolis Literary Festival (2002).
Biographical information prepared the year of the award.