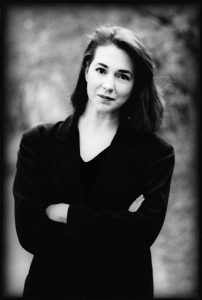 Biography
---
Lorrie Moore was born in Glens Falls, New York in 1957. She attended St. Lawrence University in Canton, New York, where she tutored on an Indian reservation, was editor of the university literary magazine and, at age 19, won Seventeen Magazine's Fiction Contest. After graduating summa cum laude, she worked in New York for two years before going on to receive a Masters in Fine Arts from Cornell University.
In 1985, her first collection of short stories, Self Help, was published by Knopf, producing reviews comparing her to everyone from Grace Paley to Woody Allen. Subsequent books include Anagrams, Who Will Run The Frog Hospital?, Birds of America , Like Life and The Forgotten Helper, a children's book. She has edited I Know Some Things: Contemporary Stories About Children Viewing The World and The Best American Short Stories 2004.
Lorrie Moore has been the recipient of a Lannan Foundation Fellowship, the National Endowment for the Arts Creative Writing Fellowship, a Guggenheim Fellowship, the Irish Times International Prize for Fiction, and a Literature Award from the American Academy of Arts and Letters. Her stories and reviews have appeared in The New Yorker and The New York Review of Books as well as other periodicals, and in annuals such as The O'Henry Awards and The Best American Short Stories. One of her short stories, "You're Ugly Too," was chosen for The Best American Short Stories of the Century, edited by John Updike. She has been a Professor at the University of Wisconsin since 1984, where she is currently Delmore Schwartz Professor in the Humanities.
Biographical information prepared the year of the award.