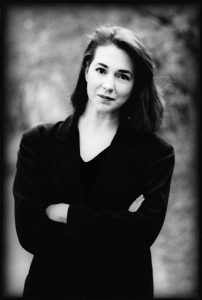 ---
New York Times
October 20, 2004
Short and Sweet
The Arts/ Arts, Briefly
By Edward Wyatt
Lorrie Moore, whose short stories have illuminated the heartache and hopes of a cross section of modern Midwestern men and women, has been named the recipient of the 2004 Rea Award for the Short Story, given annually to a writer who has made "a significant contribution to the short story form." The award, carrying a $30,000 prize, was established in 1986 by Michael M. Rea, a publisher and art collector, to encourage short story writing. It is given annually to a living American writer. Ms. Moore's story collections include Like Life and Birds of America. One of her stories, You're Ugly Too, was chosen for The Best American Short Stories of the Century, edited by John Updike. Previous winners of the Rea award include Donald Barthelme, Richard Ford, Alice Munro and Deborah Eisenberg.
---
Columbus Dispatch
Columbus, OH
October 20, 2004
Rea Award
Writer wins $30,000 for short-story efforts
New York (SP) — Lorrie Moore, an acclaimed author of short fiction, has been name this year's winner of the Rea Award for the short story, a prize worth $30,000.
In a citation issued yesterday, the award's judges said that "Lorrie Moore has earned a place among the finest writers in this country by exploring the lives of modern women and men . . . as they confront the often absurd indignities of ordinary life."
"Her short stories have charted this territory with unfailing intelligence, an almost miraculous with, and remarkable depth of feeling" according to the citation, written by authors Edwidge Danicat, Dam Haslett and Amy Hempel.
Moore's books include Like Life and Birds of America, and her fiction appears in The New Yorker. A story, You're Ugly Too, was chosen for The Best American Short Stories of the Century, a compilation edited by John Updike.
Previous winner of the Rea Award include Paul Bowles, Joyce Carol Oates and Richard Ford. The prize was established in 1986 by Michael Me. Rea, a publisher and art collector to encourage short-story writing by honoring a living American writer who has mad a "significant contribution to the short-story form."
---
Litchfield County Times
New Milford, CT
October 22, 2004
Rea Award Goes to Wisconsin Writer
By E.L. Lefferts
WASHINGTON—When Washington resident Michael Moorhead Rea decided to endow a $30,000 prize for the short story, he didn't make it about the single best story. Instead, his annual prize goes to an author who has made a "significant contribution to the short story form."
This year, The Rea Award for the Short Story was presented to Lorrie Moore, who has made major contributions to the genre with three short story collections, Self-Help, Like Life and Birds of America.
"Her work is wonderful," said Mr. Rea's widow, Elizabeth Richebourg Rea, Tuesday. "There are some incredible stories in Birds in America. She's a very powerful writer who gets to you on every level. I don't take part in the deliberations [to decide the recipient of the award], but I'm glad she won."
Ms. Moore has also published a few novels, but her dedication to short-form fiction can be found in two volumes of short stories she edited called I Know Some Things: Contemporary Stories About Children Viewing the World and The Best American Short Stories 2004. Ms. Moore is a professor at the University of Wisconsin, where she has taught since 1984.
Mr. Rea, who died in the summer of 1996, was not an author. He was an English major. at the University of Virginia who passed up a life in literature to work for the family real estate business. From 1952 to 1969, he was the vice president of Oliver Tyrone Corporation in Pittsburgh. Following that, he was active in the Washington, D.C., real estate market while simultaneously founding Harrea Broadcasting, Inc., which owned and operated radio stations in Pennsylvania and Maryland.
With his real estate earnings, Mr. Rea started collecting first editions of short stories. He was also an avid art collector. "He liked the form of the short story," Mrs. Rea recalled. "It was a love of his before the collecting. He believed you could sit down and read a short story in one sitting like you could look at a painting, and it would tell you a story."
Her former husband's love of stories was traced back by Mr. Rea to his Irish roots. In a tip to his ancestry, the administrator of the $30,000 award is called the Dungannon Foundation, after Mr. Rea's paternal hometown in Northern Ireland.
The award is also given as an incentive to keep writers interested in short stories. There are few venues for short fiction and many of the best writers dedicate their talents to novels, which are easier to get published.
Mr. Rea's obsession with the form was so complete that he saw to it that short stories were published in volumes that reflected the respect he felt they deserved. He formed Sweetwater Editions, which printed deluxe editions of Satan in Goray and Early American Stone Sculpture: Found in the Burying Grounds of New England, collections by short-story writ­er Isaac Bashevis Singer.
His love of the art form rubbed off on Mrs. Rea, she said. "He got me into it," she acknowledged. "I was with him . . . when he got the idea for the award [in 1986). He was really an avid reader and loved to tell stories himself and read what new writers were doing with the form."
Continuing in his footsteps, Mrs. Rea keeps an eye on the outstanding writers of today so that she can confidently select the three judges who choose the winner.
This year, American Book Award recipient Edwidge Danticat, 2003 Pulitzer Prize finalist Adam Haslett and PEN award winner Amy Hempel were responsible for bestowing the Rea Award on Ms. Moore.
The judges met in the spring and each nominated two authors. They spent the summer reading the nominees' work, and then they met Oct.7 at Mrs. Rea's New York City apartment to deliberate.
When they decided on Ms. Moore, Mrs. Rea spirited them off to a private luncheon at the Park Avenue Cafe where they celebrated a job well done and put in a call to the winner. That's a tradition started by Mr. Rea when he first notified Cynthia Ozick that the distinguished prize was hers.
"He got a special thrill out of that," Mrs. Rea said. "Getting Lorrie Moore's phone number was not easy. But I had my cell phone with me and she ended up calling us back before we finished lunch.
"She was thrilled," Mrs. Rea continued. "I always get emotional when I do that because it was Michael's favorite thing to do. I always feel his presence then. It's nice."
In 2006, the Rea Award will have reached a 20-year milestone. Mrs. Rea is already working on a second anthology of short stories by Rea winners.
---
LITCHFIELD COUNTY TIMES
NEW MILFORD, CT
October 22, 2004
EDITORIAL
By Douglas P. Clement Editor
Every year, around this time that the autumn leaves are offering a silent version of visual pyrotechnics, there comes an announcement that brings to the foreground something that is as compelling and mysterious a the rhapsodically repetitive popping of firecrackers at a distance not easily judged—the short story.
The emphasis on fiction rendered expertly in the face of constraints that could trip up even veteran novelists arrives in this season of reflection courtesy of the late Michael Rea, a passionate reader who left as a legacy the Rea Award for the Short Story. From her home in Washington, Mr. Rea's wife, the photographer and curator Elizabeth Richebourg Rea, lovingly sustains the tribute to a living American or Canadian writer who has shown great accomplishment with prose delivered with relative brevity.
For Avid readers, few things compare to the satisfaction of becoming immersed in a long novel that can be savored for days, or even weeks, but nothing in the narrative realm has the ability to deliver the immediate impact of a short story. Distilled into such a concentrated form, the prose absolutely sparkles. The message that crackles like electricity flowing through and around the words often seems simple, though the final punctuation mark usually has a way of serving as a beginning rather than an end.
Its was announce this week that the 2004 Rea Award, which comes with a check for $30,000, has been given to Lorrie Moore, whose success with the short story accelerated when, at age 26, she had a collection called Self-Help picked up by Knopf. Her 1990 collection, Like Life, received rave reviews and Birds of America solidified her reputation as a master of the short story and a keen observer of human relationships and the challenges foisted upon children.
Why not let the Read Award, which remains a wonderful beacon of individuality in an increasingly commercialized publishing world, serve as an introduction to the works of Ms. Moore, and to the singular charm of the short story.
---
Pittsburgh Post-Gazette
Pittsburgh, PA
October 31, 2004
More award news
By Bob Hoover
Lorrie Moore has won the $30,000 Rea Prize for the Short Story, the 19th recipient of the award founded by former Pittsburgher Michael Rea.
He was an officer of the Oliver Tyrone Corp., here from 1952-1969 before moving on to the Washington, D.C., area to pursue business opportunities there.
A writer, book collector and publisher, Rea started the prize competition in 1986. The first prize went to Cynthia Ozick
Moore is the author of such collections as Who Will Run the Frog Hospital, Birds of America and Like Life. She teaches English at the University of Wisconsin.
---
Poets & Writers Magazine
New York, NY
JAN/FEB 2005
Long and Short Story Awards
Short story writers received some mixed messages lately, beginning with last summer's news out of Omaha, Nebraska: After two years of administering the annual Award for Short Story competition, Zoo Press publisher Neil Azevedo announced that no winners would be chosen for either year, and no entry fees would be refunded. Then, in September, more bad news came, this time from Fairfax, Virginia: David Fenza, executive director of the Association of Writers & Writers Programs (AWP), announced that the judge of the organization's annual short fiction contest found that "no manuscript was worthy of the award."
But fiction writers were reminded that there are indeed masterful practitioners of the genre when it was announced in October that Lorrie Moore, the author of Like Life and Birds of America, was the winner of the prestigious Rea Award, given annually to writers who have made "a significant contribution to the short story form."
---
Seattle Post-Intelligencer
Seattle, WA
October 20, 2004
Books
Award day: Two of the most prestigious and lucrative awards in American letters were announce yesterday, with the honors going to short story writer Lorrie Moore of Madison, Wis. and poet Donald Revell of Las Vegas. Moore, 47, was named recipient of the 2004 Rea Award for the Short Story, which honors a writer for "significant contribution to the short story form." This lifetime award, first conferred in 1986, has gone to a who's who of contemporary North American writing. It provides an honorarium of $30,000. Moore's acclaimed short collections include Like Life and Birds of America. Revell, 50, is being honored for his collection, My Mojave with the 2004 Lenore Marshall Poetry Prize conferred on the "most outstanding book of poetry" published last year. The Marshall Prize provides and honorarium of $25,000. Revel has published eight collections of poetry and directs the creative writing program at the University of Utah.