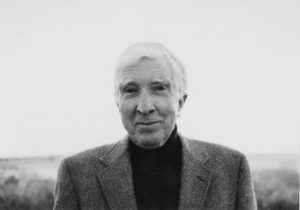 ---
The New York Times
September 14, 2006
Arts, Briefly
Footnotes
By Lawrence Van Gelder
John Updike, has been named the win­ner of the annu­al $30,000 Rea Award for the. Short Story. The award, estab­lished ·in 1986 by Michael M. Rea, a passionate reader and collector of short stories, goes to a living American or Canadian writer whose work has made "a significant contribution to the discipline of the short story as an art form."
---
The Litchfield County Times
New Milford, CT
September 15, 2006
Updike Wins 2006 Rea Award
By Rebecca Ransom
WASHINGTON—Elizabeth Richebourg Rea remembers that one of her late husband Michael Rea's favorite things was personally calling the winner of the award he created after the judges had deliberated.
A passionate reader, Mr. Rea, a Washington resident, founded the Rea Award for the Short Story, "the most prestigious award exclusively for the short story," in 1986 "to be given annually to a living American or Canadian writer whose work has made a significant contribution to the discipline of the short story as an art form." Twenty years after the Rea Award was founded, Ms. Rea carries on her husband's legacy.
Pulitzer Prize-winning writer John Updike was announced this week as the winner of the 2006 Rea Award for the Short Story. A winner of both the National Medal of the Arts and the National Medal for the Humanities, Mr. Updike's collections of short stories include Pigeon Feathers, The Music School and Museums and Women and Other Stories.
"John Updike's prodigious output of powerful stories certainly is encouragement for every writer of short fiction," Ms. Rea said. "There was never an Updike book far from Michael's reach. … Updike's win represents the award's true meaning and Michael's ultimate dream fulfilled."
Past winners of the Rea Award include Cynthia Ozick, the first recipient, Joyce Carol Oates, Tobias Wolff, Paul Bowles and Ann Beattie. Mr. Rea, a real estate and media mogul, fell in love with the short story form, in part, because of his Irish heritage. "The Irish were great story tellers," he once said. Mr. Rea named the foundation responsible for the $30,000 Award the Dungannon Foundation after his paternal hometown in Northern Ireland.
"One time he said he found it the most wonderful form of fiction-you could read it in one sitting," recalled Ms. Rea during a telephone interview from her Washington home. She added, "He joked it was all he had time to read while he was stationed in China [during World War II]."
"He loved the form," she said, noting that Mr. Rea also amassed a collection of first editions of stories from Edgar Allan Poe to contemporary writers. "He liked the systemic quality of the form itself," she said.
Mr. Rea, who died in 1996, "established the award to encourage writers, young and old, to keep the form going," Ms. Rea said. "And I think it has."
To celebrate the 20th anniversary of the Rea Award for the Short Story and honor the life of Mr. Rea, Selected Shorts: A Celebration of the Short Story will take place April 11, 2007 at Symphony Space in New York City. The celebration will include past winners of the Rea Award reading a selection of their works.
---
Palm Beach Daily News
September 22, 2006
Updike to receive Rea Award
Two-time Pulitzer winner to accept 20th edition of award founded by part-time Palm Beacher.
By Jan Sjostrom
Daily News Arts Editor
The Rea Award for the Short Story celebrated its 20th year by naming John Updike its 2006 winner.
The $30,000 annual award, the largest American prize dedicated exclusively to the short story, was created by part-time Palm Beach resident Michael Rea to honor living American and Canadian writers who have contributed significantly to the art form. Rea died in 1996, and the award was continued by his Dungannon Foundation, under the direction of his widow, Elizabeth.
Elizabeth Rea has kept up her husband's tradition of phoning writers during a lunch with the jury to inform them that they've won.
Updike "was delighted," she said.
"He was very humble about it. That was sweet. He said he'd always wanted to win this award."
Her husband, she said, "would have felt very strongly that Updike should have this award under his belt. The whole thing with Michael was to encourage writers to continue writing short stories. Updike certainly is encouragement for short-story writing."
Updike's laurels include a National Book Award for his novel The Centaur and a National Book Critics Circle Award, Pulitzer Prize and American Book Award for Rabbit is Rich. He won a second Pulitzer Prize and National Book Critics Circle Award for Rabbit at Rest. He's one of the few artists to have been decorated with a National Medal of the Arts and a National Medal for the Humanities.
This year's Rea Award jury consisted of past winners Anne Beattie, Richard Ford and Joyce Carol Oates. In their citation, the jurors noted that it's rare for a writer to be a master of long and short fiction, and added that "contemplating John Updike's monumental achievement in the short story, one is moved to think of Nathaniel Hawthorne, Henry James, Ernest Hemingway and perhaps William Faulkner . . ."
Michael Rea and the award's 20th anniversary will be honored April 11 at Symphony Space in New York as part of that organization's Selected Shorts: A Celebration of the Short Story series of readings. Participants will include Updike and past winners Beattie, Ford, Oates, Cynthia Ozick, Grace Paley, Deborah Eisenberg and Tobias Wolff. Actors will read one complete story each by Ozick the award's first winner, and Updike, and past winners will read excerpts from their stories.
---
Pittsburgh Post-Gazette
September 17, 2006
City of short stories, too
By Bob Hoover
Two of the country's major honors for the short story-the· Drue Heinz Literature Prize and the Rea Award for Short Fiction — are local products.
The Rea Award marked its 20th anniversary last week by honoring John Updike with its $30,000 prize.
The 74-year-old Pennsylva­nian, author of 11 short-story collections, is now the dean of American fiction. He published his 19th novel, The Terrorist, this year.
The Pittsburgh connection? The prize is named for Michael Rea, a former executive with the Oliver Tyrone real estate firm from 1952-69 who grew up in Sewickley.
After several other ventures, Rea initiated the literary prize in 1986. It honors "artistic achieve­ment, originality and influence on the genre." He died in 1996.
The Heinz Prize, endowed by Drue Heinz, widow of H.J. Heinz II, is administered by the University of Pittsburgh Press. It recognizes authors in their early career and celebrated its 25th anniversary last year.
This year's winner, Todd James Pierce, teaches English at California Polytechnic Univer­sity. His collection, "Newsworld, will be published this month by PittPress. He also gets $15,000 check.