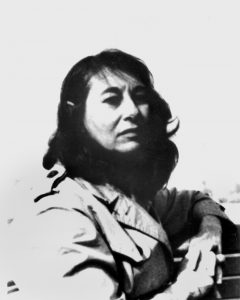 ---
The New York Times
The Arts
May 3, 1997
Gina Berriault Wins Short Story Award
Gina Berriault has been named this year's winner of the Rea Award for the Short Story. The $30,000 prize was given to Ms. Berriault for the power and originality of her work, which includes The Mistress and Other Stories (1965), The Infinite Passion of Expectation: 25 Stories (1982) and Women in Their Beds: New and Selected Stories (1996).
Women in Their Beds was the winner of this year's National Book Critics Circle and PEN/Faulkner Awards for fiction.
The jury was three previous winners of the award, Cynthia Ozick (1986), Tobias Wolff (1989) and Andre Dubus (1996). The citation accompanying the award for Ms. Berriault praised her stories' "range of character and incident" and "their worldliness, their swift and surprising turns, their penetration into palpable love and grief and hope."
The award was established in 1986 by Michael M. Rea, an art collector and publisher who died last year.
---
Times-Standard
Eureka, CA
Wednesday, June 11, 1997
California writer honored
Short Stories Get Berriault REA, Pen/Faulkner prizes
By Hillel Italie
The Associated Press
WASHINGTON (AP)—Author Gina Berriault is in her apartment by the bay in Sausalito. She's watching mountainous clouds roll by, wondering how to take some idea in her head and turn it into fiction.
Actually, that's what she'd like to be doing. Instead, she is here at her publisher's office, picking at a piece of bread, her gentle voice trembling as she considers the attention she never expected, or necessarily wanted, to have.
"I feel like I'm standing In for Gina Berriault," says this California native, on a rare trip East (or anywhere) to collect the Pen/Faulkner prize for her story collection "Women In Their Beds."
"I'm not used to this public life and it's not my reality. I don't like to be so evident because my work springs from the secret aspect of myself."
For some 40 years, Berriault wrote in serene, despairing anonymity, earning just enough to raise a daughter by herself and to find time to work on stories that magazines, more often than not, would turn down. What books she could get published went out of print. That has changed, perhaps too much. Besides the Pen/Faulkner, her story collection has won the National Book Critics Circle prize and the Rea Award for the Short Story. Authors praising her include Grace Paley, Richard Ford and Robert Stone.
Published by Counterpoint, an imprint no more famous than Berriault, Women In Their Beds, has sold a respectable 30,000 copies. An old novel, The Lights of Earth, is being reissued in the fall, and Counterpoint may bring back a couple of other Berriault books.
For most authors, this would be a great moment, a glorious moment, a chance to look back proudly on their work and to laugh for ever having doubted themselves.
But just as Berrlault is the type of writer who can't look at anybody without imagining them both in youth and In old age, she can't think about what's happened without sensing that every emotion contains its opposite.
"When we think about artists of the past and we're still looking at their wonderful art. It's like an immortality isn't it? And it's like an invulnerablllty," said the 70-ish Berriault, who declined to give her age.
"But there's a flip side to that. The more recognized or evident or obvious you become, the more vulnerable you become. Then your mortality comes in. You're even more cognizant of your mortality."
Here Is an old-fashioned writer, one whose dark eyes well up at the mention of Chekhov and other Russians ("The humanity. The humanity"), who despises television and thinks statistics, age included, the enemy of compassion.
Born In Long Beach, Calif., Berriault is the daughter of immigrants from Eastern Europe, and she fell in love with books from that part of the world. Her first "writing" experience was copying stories by favorite authors, but as a teenager she was inspired to try one of her own.
"I sent it to Harper's (Bazaar). They asked me to change it this way, that way. I did and they still sent it back and I think I cried for the rest of the afternoon."
Giving up was unthinkable. For years, a typical day meant seeing her daughter, Julie, off to school writing through the afternoon, fixing Julie's dinner, putting her to bed and then writing into the night. She supported herself with odd jobs and the occasional residual check. She drove an old car.
Berriault says she doesn't get out very often, but In her work you seem to encounter an entire community: children and senior citizens, blacks and whites, waiters, writers, librarians, homeless people, hospital patients, actors, a merchant seaman, a bulldozer operator.
This community isn't bound by how people live but by how they think. In story after story, Berriault's characters reveal a near Shakespearean obsession with time and identity, the way people change and the difference between how they see themselves and how others see them.
"You have to have a certain view of yourself that keeps you going in life. Otherwise, what happens? You sort of crumble, don't you?" Berriault said.
"Let me say that I tend to demean myself. And It comes from being In a different kind of family, being Jewish in a petit-bourgeois gentile neighborhood. In grammar school, there were anti-Semitic remarks and while nobody directed them at me, l felt them and it gives you a sense that you're different.
"That's one reason why I wanted to write about other people, why I was so curious about other people. Why are they as they are? Why do they do these things? What are they concealing and what are they revealing? I had to write about what I saw and avoid writing about myself."
---
Coast Weekly
Seaside, CA
Heart of Darkness
Author Gina Bemault was master of the delicate, unexpected metaphor.
By Barbara L. Baer
Gina Berriault was born in 1926, named Arline Shandling, a child of East European Jewish immigrants settled in Los Angeles. At some time she became Gina, and then by marriage, Berriault—both first and last names more resonant for a writer—and moved north, into Beat and bohemian life in San Francisco in the 1950s. Berriault stayed in Northern California for the rest of her life. As her photos show, she was a dark, attractive, moody-looking woman with a distinctive nose arched between thick black brows.
Women in Their Beds won Gina Berriault the most prestigious awards of her writing career. In one year, 1997, her collection of nine new stories plus 26 collected from past publications received the National Book Critics Circle Award; Rea Award for Short Story; PEN/Faulkner Award for Fiction; Commonwealth Gold Medal for Literature; and the BayArea Book Reviewers Award. In 1998, Counterpoint Press re-issued three of her out­of-print novels The Lights of Earth, Afterwards and The Son.
Gina Berriault died this past July, at 73. The flood of awards and the reappearance of her work came late, hardly giving her time to enjoy them. Berriault wasn't entirely ignored over the years. She won NEA grants, Guggenheim fellowships, several O. Henry Prizes and Pushcart Awards. Over 30 years, she published four novels, two story collections, and numerous stories in prominent publications. Yet, until Counterpoint rescued her work, her books were out-of-print.
In my search for background, I discovered an anonymous review on Amazon.com that said it all. "Stunning books. Sadness in that not enough people read them, sadness that Gina Berriault isn't alive to hear praise."
Berriault wrote the 36 stones collected in Women in Their Beds over many decades, though the arrangement seems to follow no particular order. In a number of stories the yearning for physical beauty, for the power beauty commands, is the underlying theme. Anna Lisa's Nose begins with the stunning sentence, "It was a family of three sons and four daughters, every one of whom had a great arched nose." Even when Anna Lisa's nose has been turned into a pretty model's profile by a plastic surgeon, when the transformation appears to have brought its possessor all she could desire—love, fame, money—the psychic power of the original dominates Anna's life and haunts the story. Berriault seems to be saying that the imprint of physiognomy is for life, that any change you make, including bobbing a nose, has a price.
In many of Berriault's stories, the protagonists are San Francisco North Beach bohemians, artists, workers, old lefties. Even though they live in the Italian neighborhood, these people don't cook or eat. They are on the run, they meet in bars, and even then are not really convivial but always remain alone. Most people in Berriault's fiction live on the edge of physical, financial or emotional collapse.
Berriault's writing is democratic. The working man and woman suffer and yearn just as painfully as the artist and intellectual. She writes with an aching political awareness, political nostalgia for the good cause—Spain, the labor movement, the '60s.
Berriault has been called "Chekhovian" by writers who admired her, Andre Dubus and Cynthia Ozick among them. As in Chekhov, the endings of Berriault's stories don't offer answers, don't wrap things up. She is a writer for readers who are restless souls themselves, who understand that one may not be happy with all one has, that gnawing dissatisfaction, and envy of others persist—like Anna Lisa's phantom nose. What I find missing in her stories are Chekhov's leavening characters, the fat or jolly person, the fool who eats a lot, stumbles through life, makes you laugh. A fair share of Berriault's stories take place in hospitals and mental institutions, or with the dying. I don't judge such somberness to be a fault, but I do understand that Berriault's dark vision, and her integrity pursuing it, probably made her less widely read in her lifetime.
The title story, Women in their Beds, is a small wonder, a microcosm of the world. Angela Anson, a young actress, takes a job in the women's ward of a public hospital. Seeing the mostly old and middle-aged women, some psychotic, some just ill and poor, reminds her of her mother and aunt, and makes her fear for what her future will be. One girl, an attempted suicide, reminds Angela of her own self-destructive younger self:
"A skinny sixteen, awkward at every­thing and even at how to hope, she was saved by that very awkwardness, and she wanted to say to this girl: After that bungled act I left my awkwardness behind, and now I remember it sort of fondly, like I would a crazy childhood girlfriend."
Toward the end of the story, Angela lies in bed while her lover sleeps. She speaks softly to herself, as if not to awaken him, about what she has learned, wisdom that could apply to many other characters in Women in Their Beds: "Listen, my dear ones, over there across the city. Do you remember how each time you lay yourself down in a bed you wondered, if even for a moment, what you were doing there? And what about the beds you thought you'd chosen yourself? Do they now seem chosen for you?"
Gina Berriault is now silent. Yet her writing comes to us, asking us to listen, to know her.
---
Palm Beach Daily News
May 17, 1997
Novelist Berriault wins '97 Rea Award
By Jan Sjostrom
Daily News Arts Editor
Gina Berriault has won the 1997 Rea Award for the Short Story, the Dungannon Foundation officials announced recently. The foundation presents the $30,000 prize annually.
The prize, the only American award dedicated to the short story, recognizes an author for significant contributions to the literary form.
The award was initiated by the Dungannon Foundation's founder, Michael Rea, who died last July. A part-time Palm Beach resident, Rea was a member of the Norton Museum board of trustees and chairman of the museum's works-of-art committee. A collector of rare first editions of American short stories, Rea had a lifelong passion for the short story.
Rea's wife, Elizabeth Richebourg Rea, is continuing the award. In honor of Michael Rea, this year's winner was selected by a jury composed of past Rea Award recipients Cynthia Ozick, Tobias Wolff and Andre Dubus.
The Rea Award jury's comments included this analysis of Berriault's work: "Her stories astonish—not only in their range of character and incident, but in their worldliness, their swift and surprising turns, their penetration into palpable love and grief and hope"
Berriault, 71, lives in northern California, the setting for most of her stories.
She has written four novels — The Descent, A Conference of Victims, The Son and The Lights of Earth — and three short-story collections — The Mistress and Other Stories, The Infinite Passion of Expectation: 25 Stories and Women in Their Beds: New and Selected Stories.
Berriault was showered with honors in 1997. Women in Their Beds, published in 1996, has received two awards this year: the National Book Critics Circle Award and the PEN /Faulkner Award.