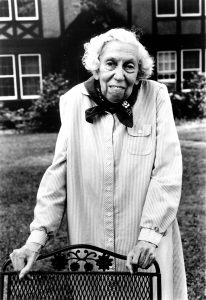 Biography
---
Eudora Welty was born on April 13, 1909 in Jackson, Mississippi, where she still lives today, in the house in which she grew up.
Among the most honored of American writers, she has received the National Medal for Literature, the American Academy of Arts and Letters Howells Medal, the National Institute of Arts and Letters Gold Medal for the Novel, the Pulitzer Prize and the Presidential Medal for Freedom. In 1991, she received the National Book Foundation's Medal for Distinguished Contributions to American Letters and, in 1992, the Rea Award for the Short Story.
Eudora Welly's work is set in Mississippi, often in the Delta, capturing the distinctive Southern character and nuances of speech. Her bond to the South, as a source of inspiration for her writing, stems from her life, not family roots. Her father, Christian Welty, an insurance executive, originally came from Ohio and was of German-Swiss descent; her mother, Chestina, was from West Virginia. Eudora Welty attended Mississippi College, then transferred to the University of Wisconsin, where she obtained her B.A. She went on to do graduate work in business at Columbia University as, in her own words, "I never expected to make a living as an author." Back in Mississippi, during the early Depression years, she worked for newspapers, a radio station and as publicist for the WPA, for whom she travelled throughout Mississippi.
Her collections of short stories include The Bride of the Innisfallen & Other Stories, The Collected Stories of Eudora Welty and A Curtain of Green & Other Stories, which first appeared in 1941, bringing her immediate recognition as one of America's most gifted writers.The fiftieth-anniversary edition of A Curtain of Green & Other Stories was published by Harcourt Brace Jovanovich in 1991. It includes such favorites as "Why live at the P.O., "Powerhouse," "Petrified Man" and "Keela, the Outcast Indian Maiden."
Her short stories have appeared in magazines, including The Southern Review, The Atlantic Monthly and The New Yorker.
Biographical information prepared the year of the award.