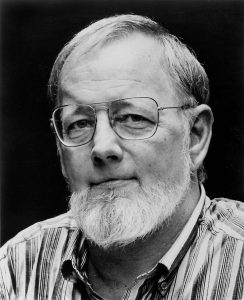 ---
Daily Local News
Chester, PA
May 1988
Barthelme wins award
NEW YORK (UPI) – The $25,000 annual Rea Award for the Short Story has been awarded to Donald Barthelme of Houston, a humorist with 14 books to his credit, it was announced Wednesday.
Michael Rea, president of the Dungannon Foundation which presents the prestigious award, said Barthelme has added "considerable heft to the concept of this award because he has made a significant contribution to the form."
Rea, former Washington Realtor and owner of broadcasting station in Pennsylvania and Maryland, established the award in 1986.
IN ANNOUNCING the winner, the award jury gave a citation saying, "Mockery and exaltation regularly co-habit Donald Barthelme's stories.
"The voice of pop sings in sweet mysterious harmony with the voice of the traditional philosophical and literary culture, and at moments intuitions of beatitude intrude suddenly on the excruciations of urban life," it continued. "No richer – or funnier – discourse exists in contemporary American fiction."
Bartholme, 56, is a professor of English and member of the Creative Writing Program Faculty at the University of Houston, a member or the American Academy and Institute of Arts and Letters, and winner of the National Book Award in 1972.
His short story collections include Overnight to Many Distant Cities, Great Days, City Life, and Unspeakable Practices, Unnatural Acts. His novels include Paradise and Snow White.
---
The Virginian-Pilot Ledger-Star
Norfolk, Virginia
April 10, 1988
Barthelme honored
Donald Barthelme is the 1988 winner of the $25,000 Rea Award for the Short Story.
The award, established in 1986, is given annually by the Dungannon Foundation to a living U.S. writer.
Previous winners were Cynthia Ozick and Rober Coover.
Michael Rea, foundation president, said "It seems right. Barthelme adds considerable heft to the concept of the award; like the other distinguished recipients, Barthelme makes a most significant contribution to the art form."
Jurors were Benjamin DeMott, Bill Henderson and Ozick.
Barthelme, a novelist as well as a short-story writer, is the author of 14 books, He is a frequent contributor to The New Yorker and other magazines. He is Cullen distinguished professor of English and a member of the creative writing programs faculty at the University of Houston.
Barthelme divides his time between Houston and New York.