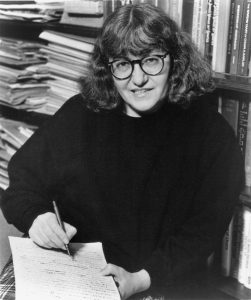 Biography
---
Born in New York City, Cynthia Ozick is married to Bernard Hallote, a lawyer, and has one daughter, Rachel.
She earned a BA cum laude in English from New York University in 1949, and an MA from Ohio State University in 1951. She is the author of six books: The Pagan; Rabbi & Other Stories; Bloodshed and Three Novellas; Levitation: Five Fictions; Art & Ardor: Essays;Trust (a novel) and The Cannibal Galaxy (a novel). She is also the author of over 100 poems, essays, articles and reviews and the translator of Yiddish prose and poetry including Leivick, Sufzkever,Tabatchnik and Glatstein. Her work is translated into Swedish, Dutch, German, Italian,Arabic, Japanese, French, Finnish, Hebrew, and Yugoslavian. She has lectured all over the United States and given readings in Canada, Italy, Israel, Denmark and Sweden. In 1982 she served as Distinguished Artist In Residence at the City University of New York. Her fiction and essays have appeared in numerous anthologies and periodicals, including The New Yorker, Harper's, Commentary, The New Criterion, The New York Review of Books, The New York Times Book Review and Partisan Review.
Some of the prizes and awards she has received include: National Endowment for the Arts Fellow (1968); Edward Lewis Wallant Award for Fiction (1972); nominee National Book Award (1972); American Academy of the Arts Award for Literature (1973); nominee National Book Critics Circle Award (1982, 1983); chosen for inclusion in Best American Short Stories (Houghton Mifflin) (1970, 1972, 1976, 1981, 1984); First Prize, Doubleday's Prize Stories: The O'Henry Awards (1975, 1981, 1984); Guggenheim Fellow (1982); American Academy and Institute of Arts and Letters; Strauss Living Award (1983); Distinguished Service in Jewish LettersAward; Jewish Theological Seminary (1984); Distinguished Alumnus Award,New York University (1984); nominee Pen/Faulkner Award (1984).
She has honorary degrees from Yeshiva University (1984), Hebrew Union College (1984) and delivered the Phi Beta Kappa oration at Harvard (1985). She is a member of Phi Beta Kappa, PEN and the Author's League.
Biographical information prepared the year of the award.