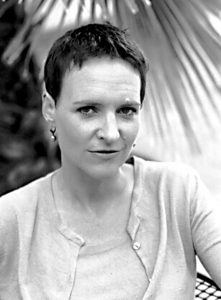 ---
The Litchfield County Times
New Milford, CT
October 17, 2003
Rea Award for Short Story Is Given to Antonya Nelson
By David Lombino
WASHINGTON—The annual $30,000 Rea Award for the Short Story, given not for a specific work but for literary power, originality and influence on the genre, was awarded this week to Antonya Nelson. The award was established in 1986 by the late Washington resident Michael Rea to encourage, writers to maintain loyalty to the art of short fiction and to honor a living American or Canadian writer who "has made a significant contribution to the short story form."
The award now continues in the same fashion under the direction of Mr. Rea's wife, Elizabeth Richebourg Rea, a photographer, curator and Washington resident. It is the only U.S. award given exclusively for the short story.
Ms. Nelson is the author of four highly acclaimed short story collections—Female Trouble, The Expendables, In the Land of Men, and Family Terrorists—and three novels. Her work has appeared in The New Yorker, and Esquire, among other magazines, and in anthologies that include Prize Stories, and Best American Short Stories. She divides her time between Colorado and Texas, where she shares a residence with her husband, Robert Boswell, the Cullen Chair of Creative Writing at the University of Houston.
For the Rea Award, six writers are nominated by three jurors, and the jurors then meet to decide the winner. This year's jurors were Andrea Barrett, Percival Everett and Sue Miller. The jurors offered the following citation about Ms. Nelson's work: "In even her earliest short stories, Antonya Nelson's passionate writing was marked by a clear-eyed, unflinching, and ferocious vision; and over the years her work has grown only stronger and deeper as she focuses in on those aspects of our lives that contain what is most terrifying and what is most thrilling. . . . Wise, tough-minded, often gorgeously written, always surprising, her stories startle us into new ways of thinking about her character's lives and our own)."
To administer the yearly award, Mr. Rea established the Dungannon Foundation, named for her late husband's paternal hometown in Northern Ireland, to which he traced his love of the short story. Mr. Rea would personally call the winner immediately after he or she was chosen, a task that he cherished. "The basic thrust of the award," Mr. Rea once noted, "is to foster a literary cause—to ennoble the form, to give it prestige."
Mr. Rea worked in real estate in the Pittsburgh and Washington D.C. areas, and founded Harrea Broadcasting Inc., which owned and operated radio stations in Pennsylvania and Maryland. A passionate reader, he wrote short fiction and collected first editions of American short stories. He also collected fine art and served as a trustee of the Solomon R. Guggenheim Museum. He died in the summer of 1996.
"Antonya Nelson is a young and up-and-coming writer. I'm happy the award is going in that direction," said Mrs. Rea in a telephone interview Wednesday. "So many awards go to well-known writers. She is not as well-known, but a prolific story writer, and highly-regarded in her field."
Past winners have included Richard Ford, Joyce Carol Oates, Alice Munro and, last year, Mavis Gallant.
---
Litchfield County Times
New Milford, CT
October 24, 2003
Editorial
By Douglas P. Clement, Editor
An announcement was made last week that surely did not get the attention it deserved, obscured by sundry other news and flotsam that seemed more important or alluring.
From Washington, though not directly, came word that writer Antonya Nelson was honored with this year's Rea Award for the Short Story. The amount of the prize, $30,000, might gain notice, but the award, and even the writer, are considerably less known that they should be.
The Rea award was established in 1986 by the late Michael Rea, an entrepreneurial Washington resident and passionate reader, and it is carried on by his wife, Elizabeth Richebourg Rea. Last week, she expressed pleasure that the honor did not fall into the trend of peppering an already celebrated author with yet another award.
The short-story form is among the most difficult and rewarding in literature, and no plot line would more appropriately honor the memory of Mr. Rea than for readers to discover the stories of Antonya Melson, and through them, discover something larger and more profound about the world.