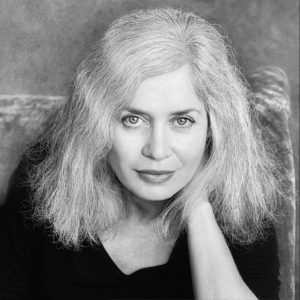 Biography
---
Amy Hempel was born in Chicago in 1951. She lived in Denver and San Francisco before moving to New York to work in publishing. With the publication of her first book of short stories, Reasons to Live (Knopf, 1985), Amy Hempel earned a reputation in the vanguard of American short story writers. One of the stories from that collection, "In the Cemetery Where Al Jolson is Buried," is one of the most extensively anthologized stories of the last quarter century. Her three succeeding collections, At The Gates of The Animal Kingdom (Knopf, 1990); Tumble Home (Scribner, 1997) and The Dog of the Marriage (Scribner, 2005) received rave reviews and increased her high stature as a writer of short fiction.
The stories from all four previous collections weregathered in a single volume and published by Scribner in 2006. The Collected Stories of Amy Hempel was named one of the Ten Best Books of the Year by The New York Times. In addition, the collection won The Ambassador Book Award from the English Speaking Union as the best fiction of the year, was a finalist for the PEN/Faulkner Award and won an award from the American Academy of Arts and Letters. It was also named one of the best books of 2006 by Newsweek, The Boston Globe, The San Francisco Chronicle and Time Out New York.
Amy Hempel has received a Guggenheim Fellowship and an inaugural fellowship from the United States Artists Foundation as well as the Mary Frances Hobson Medal and a Silver Medal from the Commonwealth Club of California. Her stories have appeared in Harper's, GQ, Vanity Fair and many other publications and have been anthologized in The Best American Short Stories and The Pushcart Prize among others. She has taught writing at Bennington, Sarah Lawrence, Princeton, Duke and Columbia and is now Director of the Graduate Writing Program at Brooklyn College. She lives in New York City.